Vision and Imaging Sensors / Detectors
Light Sensor converts light intensity to digital signals.
Press Release Summary: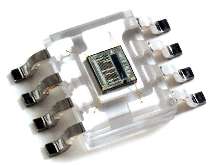 TSL2550 single-chip, ambient light sensor produces digital output capable of direct SMBus interface. It reduces overall system power by measuring ambient light to control display screen backlighting in portable equipment and also identifies light source type. Sensor utilizes 2 photodetectors and companding analog-to-digital converter to provide light measurements over 12-bit dynamic range. Information can be used to calculate light intensity in lux units.
---
Original Press Release:

TAOS, Inc. Announces Industry's First Ambient Light Sensor to Convert Light Intensity to Digital Signals


Ambient Light Sensor with SMBus Interface Helps Reduce System Power by Enabling Automatic Adjustment of Backlight Levels on Portable Display Screens

September 16, 2002 (Plano, TX) - The industry's first ambient light sensor that converts light intensity to a digital signal output capable of direct SMBus interface was announced today by Texas Advanced Optoelectronic Solutions®, Inc. (TAOS). The TSL2550 Ambient Light Sensor is designed to help reduce overall system power by measuring the ambient - or available - light as a means of controlling display screen backlighting in portable equipment such as laptop computers, cell phones, PDAs, camcorders and GPS systems. Display screen backlighting, which can account for 30-40 percent of total platform power*, now can be adjusted automatically with the help of this new single-chip light sensor from TAOS.

"Our goal with the TSL2550 is to help portable equipment users realize significant power savings by adjusting display brightness to ambient conditions," said Carlo Strippoli, TAOS vice president for marketing & sales. "Research shows that portable equipment power consumption is directly proportional to display luminance. Dimming can reduce display power by as much as 70%. In fact, a minimum brightness setting can extend battery life for more than an hour.** The TSL2550 is taking Lumenology® - the TAOS light sensing technology - in an exciting new direction."

While the TSL2550 is designed primarily for use in portable communications equipment, it can also be used to monitor lighting conditions for the control of commercial and residential lighting.

The TSL2550 uses an all-silicon technique that combines two photodetectors to measure ambient light brightness as perceived by the human eye. One of the photodetectors is sensitive to both visible light, or light the human eye can perceive, and infrared light, which the eye cannot perceive. The second photodetector is sensitive only to infrared light. The output of both detectors is converted to a digital format and stored in separate registers accessed through the SMBus. The combined information compensates for the effect of the infrared component of ambient light, thereby approximating the response of the human eye. This information can be used to calculate light intensity in commonly used units of lux. This technique eliminates the need to use an expensive photopic filter. Additionally, the ratio of infrared light to visible light can be used to determine the type of ambient light source (incandescent, fluorescent or sunlight, for example), thereby allowing more intelligent control of display contrast and/or color.

The TSL2550 uses a companding analog-to-digital converter to provide light measurements over an effective 12-bit dynamic range. The integrating conversion technique used by the TSL2550 effectively eliminates the effect of flicker from AC-powered lamps, thereby increasing the stability of the measurement. A single-supply operation (2.7 V to 5.5 V) makes the TSL2550 well suited for use in 3-Volt systems. Moreover, a power down mode, which shuts off the device on command when not in use, ensures that the TSL2550 consumes as little power as possible.

The TSL2550 Ambient Light Sensor with SMBus Interface comes in an 8-pin SOIC package and is available from TAOS, Inc. and its authorized distributors. The TSL2550 has a suggested resale price of $1.59 in 1,000-piece quantities. In addition, two versions of a TSL2550 Evaluation Module are available from TAOS, Inc. and its authorized distributors. Both the TSL2550-RS232 EVM and the TSL2550-PCMCIA EVM have a suggested resale price of $110.00.

About TAOS, Inc. (Texas Advanced Optoelectronic Solutions)
Texas Advanced Optoelectronic Solutions (TAOS), Inc. is based in Plano, Texas. Established in 1998, the company develops, manufactures and markets leadership integrated optoelectronic products. These devices combine precision mixed-signal functionality and photo-detectors on the same integrated circuit to produce advanced products with performance and cost advantages over conventional solutions. TAOS optoelectronic products include:
o Light-to-Frequency Converters (TSL230/235/245)
o Light-to-Voltage Converters (TSL25x/26x)
o CMOS Linear Sensor Arrays (TSL201, TSL202, TSL208, TSL1301, TSLI401, TSL1402, TSL1406, TSLI410, TSL3301)
o Functionally Enhanced Opto-Couplers (TPS5904, TIL300)
o Optical-based chemical sensors

More information can be found at www.taosinc.com, or by phone at 972-673-0759.

* -- From the Intel Developer Forum, Spring 2001, "Developing Low Power Mobile Performance"
** - From the Intel Developer Forum, Spring 2001, "Developing Low Power Mobile Performance"

Trademarks
Texas Advanced Optoelectronic Solutions and Lumenology are registered trademarks of Texas Advanced Optoelectronic Solutions, Inc. (TAOS) of Plano, Texas.

For more information, contact:

Martha Jane Brounoff, President
Brounoff Communications, LLC
Phone: 972-986-9043
Fax: 972-986-9046
Email: broucomm@airmail.net

More from Electronic Components & Devices