Light Scattering Detector targets GPC/SEC applications.
Press Release Summary: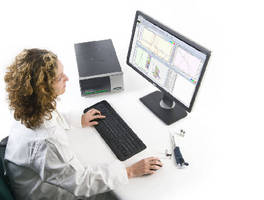 Supporting up to 20 angles, Viscotek SEC-MALS 20 measures absolute molecular weight for range of macromolecular applications and supplies radius of gyration (Rg) measurements for molecules larger than 10–15 nm. Incorporation of vertical flow cell with radial optics maximizes sensitivity and accuracy for low angle detection. Using OmniSEC software to analyze signals, Viscotek SEC-MALS 20 is available as standalone unit or integrated within multi-detector Viscotek GPC/SEC systems.
---
Original Press Release:

Malvern Instruments Launches Viscotek SEC-MALS 20 - a New Choice of GPC/SEC Light Scattering Detector



Malvern, UK: The launch of the Viscotek SEC-MALS 20 brings new standards of performance and greater choice in gel permeation/size exclusion chromatography (GPC/SEC) and extends the Malvern Instruments family of light scattering detectors for measuring the absolute molecular weight of proteins, macromolecules and polymers. Malvern's Viscotek range now includes cost-effective options with unsurpassed performance for every type of light scattering detection – low angle, right angle and multi angle – allowing Malvern to answer every GPC/SEC challenge with the most appropriate technology. With this extension to its detectors range, Malvern becomes the only vendor to offer all light scattering options.



Molecular weight has an overriding influence on the physical, structural and chemical properties of polymer, protein and macromolecular species. Modern GPC/SEC systems use static light scattering (SLS) detectors for absolute molecular weight, rather than relying on unsuitable, potentially inaccurate external calibration methods.  Malvern's new Viscotek SEC-MALS 20 is designed to measure absolute molecular weight for a range of macromolecular applications and to supply superior radius of gyration (Rg) measurements for molecules larger than 10-15 nm.



The new Viscotek SEC-MALS 20 has more detectors than any other commercially available MALS system. This increased level of detection, particularly at lower angles, gives the best possible data fit for the extrapolation of molecular weight and size.  Consequently there are significant gains in accuracy, even at high molecular weights.



The incorporation of a vertical flow cell with radial optics, rather than the more conventional lateral flow cell, means increased sensitivity and accuracy for low angle detection. It also allows the use of a variety of different mobile phases without the need to alter the optical properties of the detector.



The Viscotek SEC-MALS 20 detector runs with Malvern's established OmniSEC software. It is compatible with any commercially available SEC instrument and is available both as a standalone unit or integrated within Malvern's multi-detector Viscotek GPC/SEC systems.   



Multi-angle light scattering (MALS) detectors are widely used within biopharmaceutical research. In some instances this is because they provide the most accurate data for measuring the radius of gyration, and in others because they have become an accepted industry standard. With the launch of the Viscotek SEC-MALS 20, Malvern has expanded its detector range to offer customers the broadest, unbiased choice of light scattering systems available.



More information on Viscotek SEC-MALS 20, including a range of white papers and applications notes, is available via Malvern's website at www.malvern.com/secmalslaunch



Malvern, Malvern Instruments and Viscotek are registered trademarks of Malvern Instruments Ltd



About Malvern Instruments

Malvern provides the materials and biophysical characterization technology and expertise that enables scientists and engineers to understand and control the properties of dispersed systems. These systems range from proteins and polymers in solution, particle and nanoparticle suspensions and emulsions, through to sprays and aerosols, industrial bulk powders and high concentration slurries. Used at all stages of research, development and manufacturing, Malvern's materials characterization instruments provide critical information that helps accelerate research and product development, enhance and maintain product quality and optimize process efficiency.



Our products reflect Malvern's drive to exploit the latest technological innovations and our commitment to maximizing the potential of established techniques. They are used by both industry and academia, in sectors ranging from pharmaceuticals and biopharmaceuticals to bulk chemicals, cement, plastics and polymers, energy and the environment.



Malvern systems are used to measure particle size, particle shape, zeta potential, protein charge, molecular weight, mass, size and conformation, rheological properties and for chemical identification, advancing the understanding of dispersed systems across many different industries and applications.



Headquartered in Malvern, UK, Malvern Instruments has subsidiary organizations in all major European markets, North America, China, Japan and Korea, a joint venture in India, a global distributor network and applications laboratories around the world. www.malvern.com



Facebook: MalvernInstruments

Blog: www.materials-talks.com

Youtube: malverninstruments

Linked-In: malvern-instruments

Twitter: malvern_news

Google +: https://plus.google.com/105749461389316404960/posts#105749461389316404960/posts



USA contact:

Marisa Fraser, Malvern Instruments Inc.

117 Flanders Road, Westborough, MA 01581-1042  USA

Tel:  +1 508 768 6400

Fax: +1 508 768 6403 

marisa.fraser@malvern.com



Please send sales enquiries to:

Alison Vines, Malvern Instruments Ltd

Enigma Business Park 

Grovewood Road, Malvern

Worcestershire WR14 1XZ  UK

Tel: +44 (0) 1684 892456;

Fax: +44 (0) 1684 892789

salesinfo@malvern.com



www.malvern.com

More from Materials