Light Fixture Controller deploys only features needed.
Press Release Summary: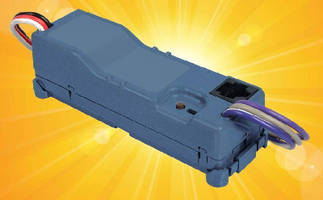 Designed for indoor or outdoor luminaires, NX Fixture Controller offers stand-alone or networked lighting control. For stand-alone control, unit includes built-in astronomical time clock. It provides self-configuring code-compliant energy savings with on/off switching and 0–10 V dimming in any combination of motion, light level, and time-of-day. In addition, plug and play SmartPORT™ technology provides integration with motion sensors, photocells, switches, and RJ45-wired networks.
---
Original Press Release:

Hubbell Control Solutions Introduces Flexible New NX Fixture Controller



Austin, Texas – Hubbell Control Solutions is excited to announce the new NX Fixture Controller. Designed for stand-alone or networked lighting control, the fixture-based module maximizes savings by deploying only the features needed. Hubbell Control Solutions leverages a history of innovation to create future-proof lighting controls.



For complete stand-alone lighting control, the Fixture Controller includes a built-in astronomical time clock. The unit provides self-configuring code-compliant energy savings with on/off switching and 0-10V dimming in any combination of motion, light level and time-of-day.



HCS' new module is also designed to integrate with the NX distributed intelligence network. Plug and play SmartPORT™ technology provides easy integration with optional motion sensors, photocells, switches and RJ45-wired networks. It also works wirelessly, at lower cost than other wireless control systems.



Designed for indoor or outdoor luminaires, the new module features universal 120-347V input voltage. The outdoor version also includes 480V input. An optional current sensor can monitor and measure energy consumption and fixture temperature.



A unique unified sensor head includes a PIR (passive infrared) occupancy sensor and daylight sensor. IntelliDAPT® self-adaptive technology from HCS gives the Fixture Controller the ability to learn its environment and adjust automatically. The sensor head includes a Bluetooth® radio, enabling "from the ground" commissioning and control. Programming is easy with Android™ and iOS® smart phone and tablet apps.



Perfect for today's LED lighting, the Controller works with any light source. Optimal for parking lots and garages, education facilities, retail, manufacturing and warehouse applications.



The NX Fixture Controller from HCS offers an unprecedented level of control and flexibility for lighting. See it at LightFair 2016, in booth #1521.



Available late 3Q2016. Find information on HCS  lighting control solutions at www.hubbell-automation.com. Also follow the brand on Facebook and Twitter for the latest news and updates.



About Hubbell Control Solutions

Hubbell Control Solutions is a strong proponent of innovative, integrated energy-saving lighting controls. From introducing the industry's first self-adaptive occupancy sensor to today's advanced wired and wireless distributed intelligence lighting controls, the company continues to offer the most comprehensive line of occupancy sensors on the market. Other products include daylight harvesting and high bay controls.



The brand is part of Hubbell Lighting, one of the largest lighting manufacturers in North America. Hubbell Lighting brands offer products for commercial, industrial and residential markets. The company's history of innovation extends back to 1886 and Harvey Hubbell's invention of the very first lighting control device-the pull chain switch.



Located at 9601 Dessau Rd., Building 1, Austin, TX 78754 USA

512-450-1100

www.hubbell-automation.com

More from Machinery & Machining Tools