Light Dimmer works with CFL and LED bulbs.
Press Release Summary: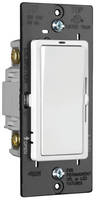 Designed to create optimal lighting level for any activity, Harmony(TM) CFL/LED Dimmer has internal, user-adjustable dial to accommodate variety of CFL and LED bulbs and lamps. Dimmer can operate with single-pole and 3-way circuit, has 450 W rating, and does not require any derating in multi-gang applications. Packaged with interchangeable ivory, white, and light almond face colors, product combines On/Off Decorator switch with separate slider for dimming control.
---
Original Press Release:

Legrand/Pass & Seymour Creates Dimmer Harmony for CFL and LED Bulbs



SYRACUSE, N.Y. - Legrand/Pass & Seymour (P&S), a leading provider of electrical wiring devices and home systems, announces the newest addition to its Harmony Dimmer range, the Harmony(TM) CFL/LED Dimmer.

The new dimming device is flexible and simple to use and is specially designed to work with dimmable CFL/LED bulbs. It is energy efficient and enhances both the bulb life and energy savings for two of the fastest growing light sources.

"No matter where the Harmony CFL/LED Dimmer is used, it creates an optimal lighting level for any activity," said Keith Falkenberg, marketing manager for Legrand/Pass & Seymour. "Unlike standard dimmers that sometimes won't work properly with CFL or LED bulbs, the P&S Harmony CFL/LED Dimmer features an internal adjustment dial that users can adjust to accommodate a wide variety of CFL and LED bulbs and lamps."

The Pass & Seymour Harmony(TM) CFL/LED Dimmer is at home in waiting rooms, kitchens and conference rooms.

It is feature rich, can operate with single pole and 3-way circuit, has a 450 Watt rating and requires no derating in multi-gang applications. Its adjustment dial allows users to adjust the bottom of the dimming range for a wide-range of CFL and LED bulbs. It is easy to operate and combines an On/Off Decorator switch with a separate slider for dimming control. Each unit also has a green LED that glows, making it easy to find in the dark when switched off.

The Harmony(TM) CFL/LED Dimmer has a sleek and ergonomic P&S Decorator style that matches other Decorator devices.

The Pass & Seymour Harmony(TM) CFL/LED Dimmer is packaged with three different interchangeable face colors - ivory, white and light almond and is available in the United States and Canada from appointed distributors.

Legrand/Pass & Seymour is a leading provider of electrical wiring devices and accessories in North America. For more information, call 1-800-776-4035 or visit www.legrand.us/passandseymour

About Legrand
Legrand is the global specialist in electrical and digital building infrastructures. Its comprehensive offering of solutions for use in commercial, industrial and residential markets makes it a benchmark for customers worldwide. Named to Forbes'2011 list of the 100 Most Innovative Companies, Legrand believes innovation for a steady flow of new products with high added value is a prime vector for growth. Legrand reported sales of $5.7 billion in 2010. Legrand has a strong presence in the North American market, with a portfolio of well-known product lines that include Cablofil, Electrorack, On-Q, Ortronics, Pass & Seymour, Vantage, Watt Stopper and Wiremold. The company is listed on NYSE Euronext and is a component stock of indexes including the SBF120, FTSE4Good, MSCI World, ASPI. In 2010, Legrand was added to the European DJSI as well (ISIN code FR0010307819). www.legrand.us

More from Controls & Controllers