Light Curtain System suits low risk Type 2 applications.
Press Release Summary: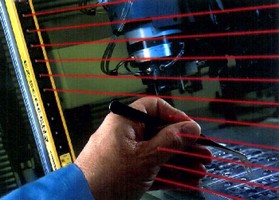 Designed for applications that will not cause serious bodily harm, EZ-SCREEN® Type 2 offers detection range up to 15 m with 30 mm resolution. Independently powered, 2-piece system is optically synchronized and requires only emitter and receiver pair. Intuitive, visible status LEDs indicate power on, fault, beam alignment, and beam/output status. Trip output model automatically resets when interrupted beam is cleared, while latch output model requires manual reset.
---
Original Press Release:


Low-Cost Light Curtain System for Reduced Risk Applications




Minneapolis, MN-September 6, 2005-Banner Engineering Corp. has introduced its EZ-SCREEN® Type 2 light screen system designed for lower risk Type 2 applications (per IEC61496-1/-2, Category 2 per EN954-1). Lower risk applications are those which will not cause serious bodily harm. The danger is limited to minor, normally reversible injuries including bumping, bruising, knock down, trapping but not crushing, and superficial cuts and abrasions. With its 30 mm resolution, a hand or ankle is safely detected across long spans up to 15 m.

"The EZ-SCREEN Type 2 expands Banner's offering of Type 4 safety light screens, grids, and points into applications that require reliable operator safeguarding without the added expense of a Type 4/Category 4 system," said Mike Carlson, technical manager for Banner's safety products. "With a list price starting at $525 for a complete system, the EZ-SCREEN Types 2 provides a solid safety solution for 30% less than comparable alternatives."

Applications. EZ-SCREEN Type 2 systems provide reliable, effective and economical machine safeguarding. Appropriate application examples for a Type 2 system include the following:
o Small assembly equipment
o Table-top robotic work cells
o Pick-and-place machines
o Small packaging machines
o Equipment and process protection (non-personnel safety)
o Supplemental safeguarding

Several attributes of the EZ-SCREEN Type 2 make them easy to install and use:
o Intuitive, visible status LEDs indicate power on, fault (flashing LED), beam alignment (top and bottom) and beam/output status (blocked or clear).
o Trip output model automatically resets when an interrupted beam is cleared.
o Latch output model requires a manual reset once an interrupted beam is cleared.

Specifications. The EZ-SCREEN Type 2 is a compact two-piece system that is independently powered and optically synchronized. It does not require a separate control box, only a self-contained emitter and receiver pair. Dedicated trip or latch models eliminate the need for configuring or programming. A system requires standard 8-pin Euro-style cables, which are available in 5 m, 8 m, 15 m, 23 m, and 30 m lengths. As an optional hookup, splitters (Y-cables) can be used to further simplify hookup by providing a single "homerun" cable and the ability to interchange emitter and receiver position without rewiring (i.e. "swapability").

Complete safety solutions. Banner is the source for the industry's broadest offering of safety-related products, including, safety light screens, safety interlock switches, and E-stop and two-hand control safety modules.

About Banner. Banner Engineering is the world's leading manufacturer of electronic machine safeguarding systems, vision sensors, photoelectric and ultrasonic sensors, fiber optic assemblies, and precision measurement systems.

For further information, contact Banner Engineering Corp., 9714 Tenth Avenue North, Minneapolis, MN 55441. PH: 888-373-6767 (Toll-free North America), or 001-763-544-3164 (International). FAX: 763-544-3213. Email: sensors@bannerengineering.com. E-commerce: buybanneronline.com Web: www.bannerengineering.com


More from Mechanical Components and Assemblies