Light/Color/Spectral Meter allows onsite characterization.
Press Release Summary: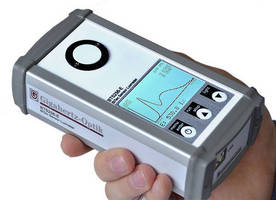 Allowing on-the-fly characterization, BTS256-E provides all necessary illuminance, color, and spectral data to fully qualify solid state lighting and any other type of light source. Bi-Technology sensor includes precision photometric photodiode and diode array spectrometer. Any spectral mismatch error of photopic sensor is compensated online using diode array's measured spectral data. Other features include electro-optical shutter, 20 mm dia diffuser, software, and USB2 interface.
---
Original Press Release:

Bi-Tec Light-Color-Spectral Meter



Gigahertz-Optik's new BTS256-E Light Meter provides all necessary illuminance, color and spectral data to fully qualify solid state lighting and any other type light source. Now lighting designers, engineers, manufacturers and maintenance workers have a cost-effective way to accurately characterize any type light source on site on the fly.



The key component of the BTS256-E is its Bi-Technology sensor that includes both a precision photometric photodiode and diode array spectrometer.  Any spectral mismatch error of the photopic sensor is compensated on-line using the diode array's measured spectral data. This reduces measurement uncertainty when evaluating any type of light source. A built-in electro-optical shutter for dark-signal pixel offset compensation increases the highly linear dynamic range of the C-MOS diode array detector.



A large 20mm diameter diffuser provides a precise cosine corrected measurement geometry, a basic requirement for accurate illuminance measurements. This is especially important when measuring oblique angle illuminance as in a parking lot, on the factory floor or in any application involving overlapping light fields. Plus the large input optic averages out any hot-spot effects which can be a problem for smaller diameter optics.

 

The LED-Luxmeter is built for rugged field portability in a lightweight aluminum housing.



It is powered by a rechargeable lithium battery and features a large size 240x160 pixel resolution transflective display located on the same side of the housing as the input optic. Three front panel control buttons control all meter functions like illuminance area mapping, internal memory and datalogging as well as many advanced settings.



For full PC control, storing data and to recharge its battery a USB2 interface is standard equipment.



The supplied S-BTS256-E software controls all functions necessary for measurement, display and data export in the lab, field or in fabrication.  The software offers different routines for data acquisition, a selection of numerical and graphical displays for data visualization and different file type export options such as ASCII format and Microsoft Excel.



For system integration SDK software development kits are available for National Instruments LabView, Microsoft .NET, C/C++. The software development kits make it easy for self-progammers to embed the BTS256-E LED-Luxmeter within their own software.



View BTS256-E highlights video at: www.led-measurement.com

More from Services