Vision and Imaging Sensors / Detectors
Light Barriers operate without separate reflector.
Press Release Summary: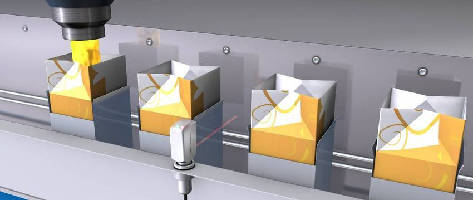 With SmartReflect Light Barriers, light beam is set up between sensor and machine part and when object interrupts beam, sensor is triggered. There must be background in sensing distance of sensor for operation. In this way, separate reflector becomes superfluous and common weak point is rectified. Special SmartReflect variants can use same principle to detect transparent objects such as bottles, trays, or even foils.
---
Original Press Release:

"Outstanding Product Innovation"- Baumer SmartReflect Light Barrier Recognised by Frost & Sullivan with New Product Innovation Award



SmartReflect by Baumer, the light barrier without reflector, keeps on wowing the market. The innovative sensors were recognised with the "New Product Innovation Award" by Frost & Sullivan, an independent, internationally operating research & consulting company analyst after a qualified research of the light barriers market.



SmartReflect by Baumer brings numerous benefits for industrial customers and is a proof of how technological innovations can significantly improve productivity in manufacturing, stated Frost & Sullivan. "Baumer has developed an innovative SmartReflect for diverse industrial environments to address the need for a robust light barrier solution, which would not have the disadvantages of conventional sensors available in the market.)", noted Emil Lazarski, Research Analyst Frost & Sullivan.



With the SmartReflect light barriers, the light beam - in contrast to a retro-reflective or through beam sensor - is set up between the sensor and a machine part, for example. An object interrupts the light beam and triggers the sensor. The only condition is that there must be a background, for example any machine part, in the sensing distance of the sensor. In this way the separate reflector becomes superfluous and a common weak point is rectified. Special SmartReflect variants can use the same principle to detect transparent objects like bottles, trays or even foils.



Frost & Sullivan also underlined the aspects of cost efficiency provided by the SmartReflect sensors: "This product is capable of enabling a very high ROI (return of investment) due to savings in maintenance costs," stated Lazarski. "As there is no need to replace reflectors, downtime is reduced and productivity is improved.  SmartReflect not only ensures substantial reduction in operating costs, but also cost savings due to easier installation, commissioning and alignment."



Dr. Oliver Vietze, CEO of Baumer Group, expressed his appreciation for the award: "It is Baumer's commitment to be innovation driver on the sensor market, and the award is giving impressive proof of our endeavors."



An innovation is only as good as rated by the customers for its additional product benefit. This time again, the force behind SmartReflect were the customers. The initial spark for SmartReflect came from the food & beverage industry where demanding hygienic standards caused many problems to the reflector of conventional solutions. " We listened carefully and worked on a novel approach " noted Vietze. "This is how SmartReflect was born, the light barrier without separate reflector. Thanks to measurable product benefits, our SmartReflect sensors are experiencing greatest interest also in many other application fields in the handling and packaging industry as well as logistics".



The Baumer Group is an international leading manufacturer and developer of sensors, encoders, measuring instruments and components for automated image-processing. Baumer combines innovative technology and customer-oriented service into intelligent solutions for factory and process automation and offers a uniquely wide range of related products and technologies.



With more than 2,500 employees and production plants, sales branches and agencies in 36 subsidiaries and 18 countries, the family-owned company is always close to the customer. Industrial clients in many sectors gain vital advantages and measurable added value from the worldwide consistency of Baumer's high quality standards and its enormous innovative potential. For further information, visit www.baumer.com on the internet.



Baumer Electric AG

Hummelstrasse 17

CH - 8501 Frauenfeld

Stefan DIEPENBROCK

Phone: +41 52 728 1122

Fax: +41 52 728 11 44

sdiepenbrock@baumer.com

Related