Light Backhoe provides ease of transport.
Press Release Summary: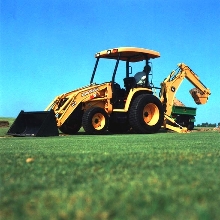 Light weight Tractor Loader Backhoe 110 TLB is maneuverable, and has 43-hp Yanmar diesel engine, which converts 75% of net engine hp into hydraulic hp. Backhoe has fully independent 33-hp PTO and Category I three-point rear hitch. Set-up for digging is accomplished via flip-over seat and quick release transport locks. Operator can power tractor forward to continue trenching without moving from backhoe operating position.
---
Original Press Release:
John Deere C & CE Division Reveals Revolutionary 110 TLB
The 110 Tractor Loader Backhoe (110 TLB) is the latest addition to the family of John Deere compact construction equipment and is the first product in company history to be developed by all three John Deere Divisions. By leveraging the strengths of the Commercial & Consumer Equipment, Agricultural, and Construction & Forestry Divisions, John Deere's 110 TLB provides customers a new level of power, productivity, and versatility on farm, landscape and construction sites. Four years in the making and with numerous patents pending, the 110 TLB represents new milestones in design innovation. This powerhouse survived rigorous field-testing and two years of intensive customer feedback. The lighter weight and shorter length of the 110 TLB make it more maneuverable and easier to transport than larger construction units. With a removable backhoe and a wide variety of implements and accessories, the 110 will be a versatile addition to any equipment fleet. With a 43-hp Yanmar diesel engine and the power and economy of direct fuel injection, the 110 TLB starts very quickly, even in cold weather. It converts 75 percent of its net engine horsepower into hydraulic horsepower, enabling it to easily outperform many machines in the marketplace. In addition, the 110 TLB features a fully independent 33-hp PTO and a Category I three-point rear hitch, making it an excellent choice to complete all types of utility chores. 110 TLB Exclusive Features The 110 TLB has an exclusive eHydro electronic transmission system with built-in Loadmatch feature. This feature allows travel speed to be automatically adjusted to match load, maintaining tractor peak engine torque and machine performance. In addition, the 110 is the first TLB in the industry with a side mount instrument panel that enables the operator to easily monitor tractor functions during operation of either the backhoe or the loader. A variety of new hydraulic power options will be available as factory installed equipment including a push-button electric diverter valve that allows the operator to switch hydraulic functions from the front to the rear of the tractor. Additionally, the hydraulic function display panel tells the operator which hydraulic function is engaged. Backhoe Features The John Deere Power Curve backhoe on the 110 TLB is the only construction-designed hoe in its class. The closed-box structure of the boom and dipperstick provide maximum strength and durability, with minimum weight. The excavator-style boom design offers tighter retraction and lower height during transport, and minimum surface disturbance during digging operations. Other construction features have been incorporated, including a heavy, cast-iron swing frame, an angle- mounted tapered boom, and replaceable pins and bushings at high-wear points. Set-up for digging is fast, with a flip-over seat and quick release transport locks. An exclusive "creep-to-reposition" feature allows the operator to power the tractor forward to continue trenching without moving from the backhoe operating position. Smooth backhoe operation and control is assured through custom-designed hydraulics and valves, and 26-inch "long-stick" controls. Construction grade hydraulic cylinders with nickel-chrome plated rods are used throughout the machine. The backhoe is quick and easy to install and remove, without getting off the tractor. Precision hydraulics automatically switch to backhoe function when it is mounted to the tractor. (Operator must still connect main hydraulic supply and return hoses, done from seat location). The 110 TLB backhoe will be available with a wide variety of buckets and accessories requested by customers, including an optional quick-attach bucket system and auxiliary backhoe hydraulics. Loader Features With a lift capacity of 2,727 lbs. at pivot points, the 110 TLB has a boxed-beam construction-style loader that is precision cut and robotically welded from high strength steel. A low-knee design and booms that taper inward almost 6 inches, along with a radically sloped tractor hood, provide unmatched forward visibility. A three-point mounting system, heavy over- axle sub frame, and webbed ductile cast-iron loader masts increase durability for the toughest jobs. A mechanical anti-roll-back device for the loader bucket helps avoid back-spilling materials during loading operations. The loader for the 110 TLB comes with standard skid steer loader quick-attach mounting plates. A variety of construction grade John Deere Worksite Pro buckets and attachments will also be available, including optional factory-installed forward hydraulic functions. Safety Features As with all John Deere products, operator safety is an important component to the 110 TLB. Standard equipment includes a four-post rollover protection structure (ROPS) and a falling object protection structure (FOPS), both certified to current construction safety standards (OSHA, SAE, and ISO). The 110 TLB has both transmission and PTO operator presence safety systems, and a seat safety switch for the backhoe operating position. Other Features A polyethylene canopy provides protection to the operator, yet retains its polished appearance for years. The Extreme Poly Pro crush-proof hood deflects debris away and prevents damage. Heavy-duty Galaxy® brand tires, available in both industrial and turf tread patterns, provide exceptional durability and wear. With built-in power, performance, and durability, the John Deere 110 TLB can put in the same day's work as a full-size backhoe loader, but also has the additional versatility of a utility tractor.
Related