Lifting Solution includes hoist, mounting, and basket.
Press Release Summary: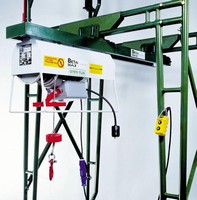 Lifting solution includes Gemini Plus portable hoist, Scaff-Trac mounting option, and Equipment Basket. Hoist has single and double line lifting capacities of 600 and 1,200 lb, respectively, and is equipped with non-rotating cable, up limit switch, and failsafe brakes. Scaff-Trac allows cantilever of 3½ ft. Equipment basket is available in 800 and 400 lb capacities. Other combinations of hoists, mountings, and baskets are also available.
---
Original Press Release:

Beta Max Offers Complete Portable Lifting Solution



Beta Max Inc., a leading provider of affordable personnel and material lifting solutions, is now offering practical applications packages for a variety of industries. With limitless combinations of hoists, mountings, and baskets, customers can be sure to find an effective solution to meet their needs.

"Beta Max has long been known as a provider of quality hoist products," said Dennis Mannion, President of Beta Max. "The company also offers a multitude of mounting options and accessories to accompany its existing line of hoists, making us a one stop shop for guaranteed lifting solutions."

One such combination includes the Gemini Plus portable hoist, the Scaff-Trac mounting option, and the Equipment Basket, an extremely useful lifting solution for the plant maintenance and construction industries. The Gemini Plus portable hoist is the most popular among Beta Max hoists. It has a single line lifting capacity of 600 pounds and a double line lifting capacity of 1200 pounds. The Gemini Plus comes equipped with a non-rotating cable to help prevent loads from spinning while lifting and lowering objects, as well as an up limit switch to automatically stop the load when it reaches the top. Its failsafe brakes ensure there will be no free-falling even in the event of power interruption.

When the Gemini Plus is used in conjunction with Beta Max's Scaff-Trac Mounting Option, it is attached to the scaffolding and hangs just under the horizontal members of a frame scaffold using Beta Max saddles and pins. The Scaff-Trac works with frame scaffolds utilizing either seven or eight foot cross braces and allows the load to be rolled back into the scaffold for unloading. The Scaff-Trac allows a cantilever of three and a half feet. Unlimited system lengths are available using add-on seven foot Scaff-Trac Extensions.

In addition to offering the hoist and the mounting option, Beta Max also offers an equipment basket in two different weight capacities. The 800 pound capacity basket is 36 ¾ inches long X 36 ¾ inches wide X 18 ½ inches high. The 400 pound capacity basket is 30 ¾ inches long X 20 ¾ inches wide X 12 ¼ inches high. Using a spreader bar, the basket attaches to the Gemini Plus hoist. All Beta Max Hoists Systems meet or exceed ANSI and OSHA specifications.

About Beta Max
Beta Max Inc., of Melbourne, Florida, has been providing the construction and restoration industries with alternate methods for lifting building materials for 20 years. For more information on the New Yorker Portable Hoist, contact Beta Max Inc., P.O. Box 2750, Melbourne, FL 32902-2750. Call: 800-233-5112 or fax: 321-768-9517. Visit Beta Max Inc. on the World Wide Web at www.betamaxhoist.com.

Related