Lifting Magnets lift, move, and position steel and iron.
Press Release Summary: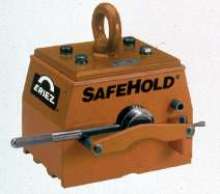 Heavy-Duty Rectangular Electro Lifting Magnet suits multiple-plate handling applications such as loading and unloading ships, barges, rail cars, and trucks. Square Bi-Polar Lifting Magnets have deep, 2-pole field for lifting and holding banded coils and miscellaneous bundled shapes. SafeHold® Permanent Lifting Magnets require no electricity to operate and perform functions ranging from lifting round materials to loading and unloading steel sheets where operator access is limited.
---
Original Press Release:

New and Improved Lifting Magnets from Eriez Help Reduce Operation Costs and Increase Efficiency


ERIE, PA-Eriez Magnetics' complete line of Lifting Magnets allow manufacturers to lift, move or position steel and iron of any weight and shape without slings, hooks or cables.

Eriez has added several new magnets to their Lifting Magnets line. The Heavy-Duty Rectangular Electro Lifting Magnet is designed to give maximum efficiency in multiple-plate handling applications such as loading and unloading ships, barges, rail cars and trucks; and for transfer operations in storage yards, shipyards, steel mills and warehouses. A new line of Square Bi-Polar Lifting Magnets joins that of the Rectangular Bi-Polar Lifting Magnets and provides for lifting banded coils and miscellaneous bundled shapes. It has a deep, two-pole field for maximum holding on irregular shapes.

Eriez' new SafeHold® Permanent Lifting Magnets perform a variety of lifting and moving functions. The SafeHold® Magnets need no electricity to operate, so power failures do not interrupt operation. Since there are no batteries to recharge or replace and no D.C. power supply to maintain, the operation costs are lower. The SafeHold® Magnets perform functions ranging from lifting round materials to loading and unloading steel sheets from burning tables or anywhere that limits operator access.

Magnets possess a unique property of attraction which can be harnessed to ease and speed ore's work. Using magnets to lift and transfer steel and iron improves efficiency and operating economy while providing greater safety than many other mechanical materials handling devices.

Eriez Magnetics designs and builds complete Lifting-Magnet Systems, including magnets, lift beams, power supplies, controls and battery back-up units. Eriez specialists are always available to consult on job-specific needs, whether it's for a single magnet or a series of magnets engineered into an efficient materials-handling system that reduces operation cost.

Eriez is recognized as world authority in advanced technology for magnetic, vibratory and metal detection applications. The company's magnetic lift and separation, metal detection, materials feeding, screening, conveying and controlling equipment have application in the process, metalworking, packaging, recycling, mining, aggregate, and textile industries. Eriez manufactures and markets these products through nine international facilities located on five continents. To receive Eriez' MB-2300 brochure on Lifting Magnets, call toll-free in the U.S. and Canada at (888) 333-(ERIEZ) 3743 or (814) 835-6000. For online visitors, download a pdf at www.eriez.com or send Email to eriez@eriez.com

More from Sensors, Monitors & Transducers