Lift Truck is suited for order picking operations.
Press Release Summary: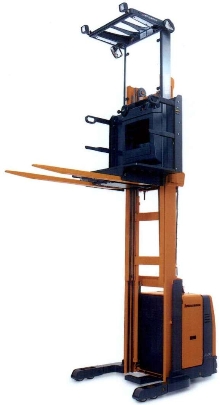 Equipped with super clearview mast, EKS 314 provides cushioned, stand-on platform that lets operator maneuver individual items from racking. Truck uses 3-phase AC motors for travel, lifting, and steering, while regenerative lowering and braking design prolongs in-use operation. Available with 2- or 3-stage mast and adjustable operator sensitivity, product has 3,000 lb load capacity, 6.0 mph max travel speed, 72 fpm max lift speed, and 32 ft max picking height.
---
Original Press Release:

Jungheinrich Introduces Revolutionary Order Picker Specifically Design for US Market


Jungheinrich Lift Truck Corporation, a world leader in the design and manufacture of industrial trucks, will introduce their first ever truck specifically designed for use in the United States applications market. The EKS 314 is an advanced and highly efficient lift truck that combines the superior performance of Jungheinrich's proprietary AC technology with an ergonomically designed operator platform featuring a "Super clearview mast" that increases flexibility and efficiency when order picking from racking systems.

The lift truck is ideally suited for a wide variety of order picking operations found in: warehouse and distribution centers, manufacturing plants, beverage and food processing plants, third party logistics providers and e-commerce companies, among others. Powerful, 3-phase AC motors for travel, lifting and steering provide the muscle and control to perform order picking tasks with minimal effort, even in high racking warehouse operations.

AC technology extends the truck's in-service capabilities and performance with low energy consumption through more efficient electrical management systems. A regenerative lowering and braking design feeds energy back into the truck supply system prolonging in-use operation cycles and reducing the time needed to recharge batteries. Energy costs are lower, and the overall cost of ownership is significantly reduced.

The truck's cushioned stand-on platform allows the operator to effortlessly maneuver individual items from the racking. The economically designed cab features a compact operating panel with a graphic display, including: battery discharge monitor, operating hour meter, key switch, emergency stop switch, clock, and lift height and steering position indicators. The cab allows the operator to either stand or sit providing a user-friendly work environment.

Many operator functions can be easily accomplished with one hand due to a variety of ergonomically positioned motion controls. Each operator's touch (sensitivity) is individually adjustable for comfort and operational efficiency. Switch-free sensors calibrate the operator's touch and then pass the information to the onboard computer where all safety checks are verified.

The EKS 314 truck handles loads up to 3,000 pounds, reaches travel speeds up to 6.0 mph and lift speeds of 72 ft/min. The truck has a maximum picking height of 32 feet. Travel control requires a simple thumb movement on the multi-function lever for safe operation during acceleration and braking. When the switch is released regenerative braking is activated and reclaimed energy is fed into the battery.

The compact truck is 42 inches wide and 118 inches long with either a two- or three-stage mast. It features an electrically controlled pallet clamp that holds the pallet in place while on the forks. The truck has a maximum turning radius of 66 inches for optimum maneuverability.

For more information on the EKS 314 lift truck contact Jungheinrich Lift Truck Corp., 5701 Eastport Boulevard, Richmond, VA 23231, phone toll free 888-333-2644, phone 804-737-6084, fax 804-737-6131, www.jungheinrich-us.com.

More from Cleaning Products & Equipment