Lift that Load...And Do It Safely. Roto-Mate(TM)/Roto-Max(TM) Motorized Jib Crane Kits!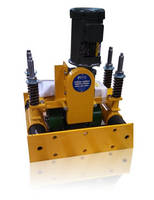 CLEVELAND, OH — David Round's Motorized Jib Crane Kits represent a breakthrough in the industry. By providing motorized rotation, the Roto-Mate™ and Roto-Max™ kits are designed to reduce or eliminate injuries resulting from workers trying to either start or stop the motion of a swinging crane, a significant source of strains and back injuries. The Roto-Mate™/Roto-Max™ safely and accurately positions loads with push-button control. The kits provide powered rotation to either new or existing free standing or wall mounted jib cranes.



Nearly any make of free standing or wall mounted jib crane can be retrofitted at a cost that is significantly less then other jib drives. The Roto-Mate™ powers jib cranes with capacities 1-3 tons and spans 14ft.  The Roto-Max™ powers jib cranes with 4-8 tons and spans 20ft.  David Round's motorized jib crane kits are the answer to important ergonomic challenges and are finding increasing applications.



Found in almost every industry from pharmaceutical and food manufacturing to oil and gas, aviation, pulp and paper and water control, David Round's motorized jib crane kits improve handling system efficiency while making the workplace a more productive and safer environment through their ergonomic designs.



About The David Round Company

Established in 1869, The David Round Company remains one of the oldest and most innovative manufacturers in the world. David Round offers material handling products such as chain hoists, jib cranes, winches and tractor drives as well as solutions including engineered wire rope hoists, jib crane motorization kits.  Every product is customizable and can be made in stainless steel.