Leviton First to Announce UL Listing for 250-Volt Tamper-Resistant Receptacles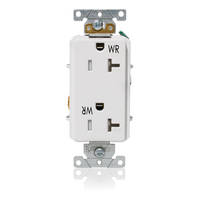 The new UL listed 250-volt tamper-resistant single receptacle will meet the 2017 National Electric Code ® Article 406.12.
MELVILLE, N.Y., Oct. 30, 2018 /PRNewswire/ -- Leviton recently announced their UL listing of heavy-duty industrial specification grade 15-amp and 20-amp 250-volt tamper-resistant single receptacles. They provide a solution that meets the requirements of Article 406.12 of the National Electric Code, as well as meeting Canadian safety requirements.
Article 406.12 in the 2017 National Electric Code expanded the locations requiring tamper-resistant receptacles to include:
Preschools and elementary education facilities
Dormitories
Business offices, corridors, and waiting rooms
Medical and dental offices and outpatient facilities
Places of waiting in transportation areas
Gymnasiums
Skating rinks
Auditoriums
A common application for this product is providing power to air conditioning units located in the various facilities listed above. Leviton is also offering weather-resistant versions of these receptacles that comply with the requirements of NEC Article 406.9 for damp and wet locations. 
"We're committed to providing timely and safe solutions to our customers, so we made it a priority to develop a product that met this new NEC requirement," said Tony Pulsonetti, senior manager of commercial products for Leviton's Commercial & Industrial business division. "At Leviton, we are the go-to brand for customers when new codes or requirements call for changes in buildings and homes."
For additional product information, visit www.leviton.com/receptaclegrades.
About Leviton Commercial and Industrial
Leviton's comprehensive line of commercial and industrial-grade electrical wiring devices provide builders, contractors and specifiers with solutions engineered to withstand the most rigorous commercial environments and harshest industrial applications. Leviton manufacturers everything from commercial, industrial and hospital grade wiring devices, to surge protective devices, electric vehicle supply equipment, temporary power solutions, heavy duty motor starter switches, IEC and NEMA watertight rated devices and more. Learn more at www.leviton.com/commercial. 
About Leviton
Every day, Leviton is engineering possibilities that make the future happen, meeting the needs of today's residential, commercial, and industrial customers globally. From electrical, to lighting, to data networks, and energy management, Leviton develops thoughtful solutions that help make its customers' lives easier, safer, more efficient and more productive. Driven by its commitment to its customers, the ingenuity of its employees and the safety and quality of its products and solutions, with Leviton, the FUTURE IS ON. For more information, visit www.leviton.com, www.facebook.com/leviton, www.twitter.com/leviton, or www.youtube.com/Levitonmfg.
CONTACT: Amanda Cillo, 202-530-4566, Amanda.Cillo@bm.com
Related