Level Transmitters include dynamic vapor compensation option.
Press Release Summary: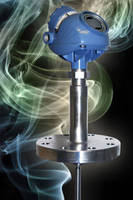 Rosemount® 5300 series guided wave radar transmitters feature dynamic vapor compensation (DVC) option that eliminates accuracy errors associated with varying pressure and/or temperature that occur in vessels involving steam vapor. DVC option comprises of probe with built-in reflector and software, offers safety with gastight dual seal, is corrosion-resistant, and has no moving parts. It uses reference reflector at fixed distance on rigid single probe to measure vapor dielectric.
---
Original Press Release:

Emerson Introduces Dynamic Vapor Compensation Option for Rosemount® Radar Level Sensors



Greater accuracy of level measurement now achievable in high-pressure saturated steam applications

AUSTIN, TEXAS (July 13, 2009) - Emerson Process Management has introduced a new option for its Rosemount® 5300 Series of High Performance Guided Wave Radar (GWR) level transmitters. The Dynamic Vapor Compensation (DVC) option eliminates accuracy errors associated with varying pressure and/or temperature that occur in vessels where steam vapor is present. The greater accuracy achieved, combined with no moving parts or calibration requirements, can improve overall plant efficiency and reduce maintenance costs for operators in a range of processing industries including oil and gas production, chemical plants and power generation.

Unlike traditional technologies such as displacer and mechanical gauges the DVC option, which comprises of a probe with built-in reflector and software, is corrosion-resistant, offers improved safety with gastight dual seal, has no moving parts and is maintenance-free. Designed for challenging level and interface measurements on liquids, slurries and solids, the 5300 series GWR transmitters are virtually unaffected by process conditions and have almost no installation requirements.

The DVC uses a reference reflector at a fixed distance on a rigid single probe to measure the vapor dielectric. This measurement is then used to automatically compensate for vapor dielectric changes resulting in a final accuracy of within 2% (compared with up to 30% Specific Gravity error in density-based level measurements or up to 20% for GWR if no compensation is made). The types of applications where this measurement is required include boilers, de-aerators, boiler feed water heaters and steam-drums.

About Emerson Process Management

Emerson Process Management (www.emersonprocess.com), an Emerson business, is a leader in helping businesses automate their production, processing and distribution in the chemical, oil and gas, refining, pulp and paper, power, water and wastewater treatment, metals and mining, food and beverage, pharmaceutical and other industries. The company combines superior products and technology with industry-specific engineering, consulting, project management and maintenance services. Its brands include PlantWeb®, DeltaV(TM), Fisher®, Micro Motion®, Rosemount®, Daniel®, Ovation®, and AMS(TM) Suite.

About Emerson

Emerson (NYSE:EMR), based in St. Louis, Missouri (USA), is a global leader in bringing technology and engineering together to provide innovative solutions to customers through its network power, process management, industrial automation, climate technologies, and appliance and tools businesses. Sales in fiscal 2008 were $24.8 billion and Emerson is ranked 94th on the Fortune 500 list of America's largest companies. For more information, visit www.Emerson.com

Contacts:

Peta Glenister,

Emerson Process Management

+44 (0) 1753 756649,

peta.glenister@emerson.com

Jerry Moon,

Emerson Process Management

1 (512) 832-3089,

Jerry.Moon@Emerson.com

Emerson Process Management,

12301 Research Blvd,

Bldg III,

Austin, TX 78759

United States

More from Agricultural & Farming Products