Leesburg Type IIB Precast Concrete Classrooms meet DBPR standards.
Press Release Summary: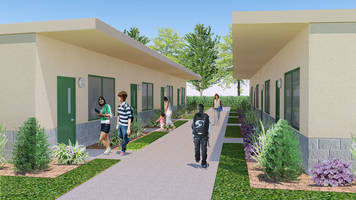 Leesburg's Type IIB Precast Concrete Classrooms are designed in 20 x 40 ft dimensions. These units can be used as single unit or can be set side by side. Classrooms feature post tensioned roof and meet ASCE 7-10 standards.
---
Original Press Release:
Leesburg Concrete Creates a New Generation of Precast Concrete Classrooms
Leesburg Concrete's new generation of precast concrete classrooms are pre-engineered which will save an organization valuable time and money. The Type IIB Classrooms are DBPR approved, meeting and exceeding SREF and Florida Building Codes. One advantage this precast building has to offer is fast track construction which allows the precast classrooms to be placed in a short time frame, during school breaks when desired.
The company is excited to offer this building solution. "Our buildings can be matched to the current campus' colors and finishes which allows us to provide beautiful and safe classroom buildings of the highest quality", said Kirk Rouse. "There is minimal site preparation and schools can purchase the buildings using their modular or portable budget. This provides classroom space when it is needed."
The time required for standard construction to include architecture, engineering, construction bid process and board approval does not easily satisfy the immediate need for expanded space as student populations fluctuate. LCCI's design allows for flexible use of the interior space meeting requirements for elementary school students (with a restroom) or students of other ages.
Leesburg Concrete provides a submittal package and engineering on the building. The classrooms are produced at the Leesburg, Florida facility, a National Precast Concrete Association Certified Plant. The site assembled 20' x 40' buildings are designed to be used as a single unit or can be set side by side to create a multiplex classroom space. The classroom buildings meet ASCE 7-10 and do not need to be evacuated during most serious weather events as many portable classrooms do. LCCI's 6000 psi precast concrete building with post tensioned roof and floor provides a good alternative for attractive, durable, low maintenance and safe classroom space.
Leesburg Concrete Company, Incorporated
Family owned and operated since 1983, Leesburg Concrete Company, Incorporated was first a leading manufacturer of precast concrete steps decks, walkways, landings, and ADA compliant modular precast concrete wheelchair ramps, with steel guard rails, and handrails, as well as architectural precast cladding panels, precast concrete stairs, Easi-Set Buildings and Slenderwall. LCCI also offers a wide array of custom precast product options. "We Take Pride in exceeding our customer's expectations" stated Kirk Rouse, Vice President of LCCI. This American, family-owned company demonstrates a philosophy of quality and innovation.
Leesburg Concrete Company, Incorporated is focused on meeting the needs of commercial building construction and renovation projects. Their experienced staff provides turnkey service, and it only takes one call to find the solution to your building needs. For more information visit their website at www.leesburgconcrete.com, (800) 882-4177, or KRouse@leesburgconcrete.com.
More from Material Handling & Storage