Leesburg Concrete Puts on a New Face at Tyndall AFB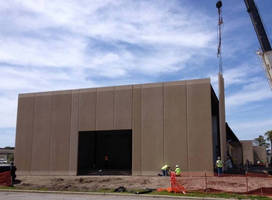 Architectural Precast Concrete Panels



In early April 2014, Kirk Rouse/Leesburg Concrete Company, Incorporated (LCCI) headed to Tyndall AFB in Panama City, Florida with crew and truckloads of custom architectural precast panels. Contracted by Apple Construction, we were tasked to manufacture, deliver and co-ordinate erection of the architectural panels. The project is still in construction and the panel installation is nearing completion. 



The beautiful, integral buff colored, raised rib panels have a sandblast finish to expose the aggregate. "We were asked to match the existing surface and we nailed it." said Shawn Thomas, Vice President of Operations.  "The project consists of a renovation and addition to an existing building at Tyndall AFB so the match needed to be perfect."



LCCI, specializing in precast concrete and metal fabrication, produces precast concrete in their Leesburg, Florida NPCA certified plant. Leesburg Concrete is proud of their continued diversification expansion and success.



Leesburg Concrete Company, Incorporated

Family owned and operated since 1983, Leesburg Concrete Company, Incorporated  was first a leading manufacturer of precast concrete steps decks, walkways, landings, and ADA compliant modular precast concrete wheelchair ramps, with steel guard rails, and handrails, as well as architectural precast cladding panels and precast concrete stairs. LCCI also offers a wide array of custom precast product options.  "We Take Pride in exceeding our customer's expectations" stated Kirk Rouse, Vice President of LCCI. This American, family-owned company demonstrates a philosophy of quality and innovation.



Leesburg Concrete Company, Incorporated is focused on meeting the needs of commercial building construction and renovation projects. Their experienced staff provides turnkey service, and it only takes one call to find the solution to your building needs. For more information visit their website at www.leesburgconcrete.com, (800) 882-4177, or KRouse@leesburgconcrete.com.

More from Architectural & Civil Engineering Products