Leesburg Concrete Produces Boat Ramp Restrooms For the City of Leesburg, Florida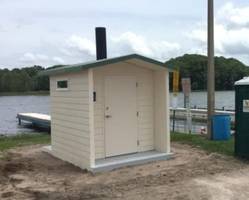 The City of Leesburg, Florida invited qualified contractors to submit sealed bids for pre-fabricated restrooms to replace existing portable toilets at two of the City operated boat ramps.  Local manufacturer and contractor, Leesburg Concrete Company, Incorporated won the bid and is pleased to have constructed this project in their home city, produced and installed by its local workforce.
Leesburg Concrete Company, Incorporated (LCCI), a precast concrete producer and an Easi-Set licensee, provided two Easi-Set Logan waterless restrooms.  The structures are precast concrete construction to include a precast roof that looks like a standing seam metal roof and has a lap siding finish on the exterior walls. 
The City of Leesburg in Lake County, Florida is known for its access to nature and eco-tourism.  The new facilities at Herlong Park with access to Lake Griffin and Singletary Park with access to Lake Harris support, boaters, fishermen, birders and nature lovers of all kinds.  Installing the vault restrooms at the two boat ramp locations allows the city to replace the portable restrooms with aesthetically pleasing, low maintenance structures.
LCCI produces quality restrooms, concessions, press boxes, dugouts and other recreational and commercial buildings.  They serve multiple park and recreational organizations, public and private schools, and municipalities and compete to win bids in the Florida and Georgia marketplace.  They have recently expanded their line to include a state approved pre-engineered classroom providing precast solutions for educational space.  This family owned and operated company has been producing quality precast concrete and metal railing for over 30 years and are happy to bring their years of experience to enhance Florida recreational environ.
Leesburg Concrete Company, Incorporated
Family owned and operated since 1983, Leesburg Concrete Company, Incorporated was first a leading manufacturer of precast concrete steps decks, walkways, landings, and ADA compliant modular precast concrete wheelchair ramps, with steel guard rails, and handrails.  They also manufacture Easi-Set® Buildings, Easi-Span® field assembled large and ultra-large buildings and Easi-Set® restrooms, feature a patented post-tensioning system in the roof and floor, architectural precast cladding panels and precast concrete stairs. LCCI also offers a wide array of custom precast product options.  "We've never had a job that we couldn't handle," stated Kirk Rouse, Vice President of LCCI. This American, family-owned company demonstrates a philosophy of quality and innovation. 
Leesburg Concrete Company, Incorporated is an NPCA Certified Plant, focused on meeting the needs of commercial building construction and renovation projects. Their experienced staff provides turnkey service, and it only takes one call to find the solution to your building needs. For more information visit their website at www.leesburgconcrete.com, (800) 882-4177, or KRouse@leesburgconcrete.com.
More from Software