Leesburg Concrete Company, Inc. Produces Insulated Architectural Precast Concrete Wall Panels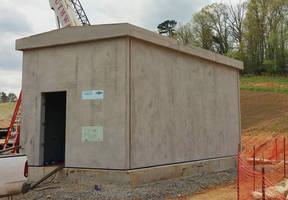 Leesburg Concrete Company, Incorporated (LCCI) has just completed its first installation of integrally insulated architectural precast concrete wall panels.  LCCI chose a patented connector insulation system for constructing insulated concrete sandwich walls, Thermomass System NC for this initiative. This Thermomass system is fabricated to the exact panel dimensions and ensures the precast wall panel delivers the specified structural and thermal performance.  The System NC features Owens Corning FOAMULAR® 250 energy saving, moisture resistant XPS insulation and Thermomass MC/MS fiber composite, corrosion alkali resistant connector series.  These combined components result in an integral insulation system capable of exceeding the stringent energy code requirements presented by ASHRAE and IECC.



"Insulated architectural precast wall panels are relatively new to the State of Florida" said Brian Stock, project manager for LCCI. "These panels add value to our precast manufacturing and can be used for walls and roofs. The insulation is completely encapsulated so no insects or vermin can live or hibernate in the material. Plus the fully enclosed insulation also inhibits mold formation and migration, preventing the spread of mold by air movement within the structure protecting occupants and building owners. This is important in our region due to the high humidity here."



Shawn Thomas, V. P. added, "Leesburg Concrete is proud to offer expanded precast wall panels options in a marketplace that is hungry for healthy buildings and energy savings."



Leesburg Concrete Company, Incorporated



Family owned and operated since 1983, Leesburg Concrete Company, Incorporated was first a leading manufacturer of precast concrete steps decks, walkways, landings, and ADA compliant modular precast concrete wheelchair ramps, with steel guard rails, and handrails.  They also manufacture Easi-Set® Buildings, Easi-Span® field assembled large and ultra-large buildings and Easi-Set® restrooms, feature a patented post-tensioning system in the roof and floor, architectural precast cladding panels and precast concrete stairs. LCCI also offers a wide array of custom precast product options.  "We've never had a job that we couldn't handle," stated Kirk Rouse, Vice President of LCCI. This American, family-owned company demonstrates a philosophy of quality and innovation.



Leesburg Concrete Company, Incorporated is an NPCA Certified Plant, focused on meeting the needs of commercial building construction and renovation projects. Their experienced staff provides turnkey service, and it only takes one call to find the solution to your building needs. For more information visit their website at www.leesburgconcrete.com, (800) 882-4177, or KRouse@leesburgconcrete.com.





More from Thermal & Heating Equipment