Lee Spring Supports Formula Student Team at University of Liverpool in UK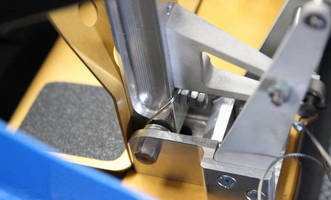 Engineering students taking part in the Formula Student racing car project at the University of Liverpool have benefitted from a donation of several torsion springs from Lee Spring UK.



Formula Student is an international competition that sees student led teams around the world design, build, and race single seat racing cars. The University of Liverpool Motorsport team consists mostly of students working towards their Masters degree in Engineering.



"Lee Spring supplied torsion springs that are positioned in the pedal box assembly in the 2012 car, ULM007, and are used to return the pedals to position." said Thomas Galea, ULM Team Member, in his second year of study in Mechanical Engineering at the University of Liverpool . "They are absolutely perfect for what we need."



Torsion springs are used for hinges, counterbalances and lever return applications and are commonly found in swing-down tailgates, garage doors and even clothes pins. The torsion springs supplied are ideal for this application and are standard Stock Springs featured in the Lee Spring catalog.



"The team relies on the support and generosity of our sponsors to compete in national and international competitions and we are very grateful for the springs and the support from Lee Spring." Thomas Galea adds.



Liverpool University Formula Student team competes in the UK at Silverstone and internationally. In 2012 the team placed 4th in the UK Universities competition at Silverstone, including a 1st place win in one of the events. For further information about Formula Student visit http://www.formulastudent.com/.



The latest Lee Spring catalog, which can be downloaded from leespring.com, features over 21,000 Stock Spring designs in both imperial (inch) and metric sizes. For more information visit leespring.com or call 888 SPRINGS.



Custom designs in a variety of materials are offered through RFQ submission to sales@leespring.com, by fax to 888.426.6655, or by calling 888 SPRINGS. Lee offers extensive custom services for the production of Springs, Wire Forms, Washers, Stampings, Four Slide Parts and Assemblies.  All Lee Spring Stock Products with the exception of MIL SPEC stock products meet RoHS and REACH environmental standards.



Lee Spring is an ISO 9001 Certified manufacturer of stock and custom mechanical wire springs, servicing diverse manufacturing markets in the United States and throughout the world.  They have multiple locations in the United States, Mexico, Europe, China and India. 



Contact Helene Herman, hherman@leespring.com or 718-362-5104.







More from Electrical Equipment & Systems