LEDtronics' New LED Canopy Lights Come with Die-Cast Aluminum Housing
Press Release Summary: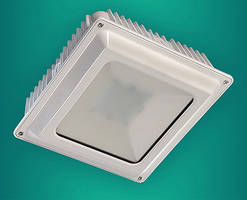 LEDtronics New CNP000-45WF Series Canopy Lights deliver an output of 5,085 lumens with power consumption of less than 45 W and luminous efficacy of 15 lumens per watt. Units are suitable for use in manufacturing, factory floors, warehouses, tunnels, parking and recreation areas. Having a height of 3.5 in., lights feature heat-resistant, polycarbonate frosted lens, units provide a circular beam spreads of 110° vertically and horizontally. CNP000-45WF lights are compliant to RoHS standards.
---
Original Press Release:
LEDtronics Low-Profile LED Canopy Luminaire an Easy Install for Most Indoor and Outdoor Applications
LEDtronics® presents a UL-listed, surface-mount addition to its lineup of low-profile LED canopy lights for both indoor and outdoor lighting applications.
As with the rest of the LEDtronics canopy light series, the compact CNP000-45WF has an extremely low profile, boasting a total height of only 3.5 inches. This sleek, slim design makes it perfect for any canopy application, such as gas stations, manufacturing, factory floors, warehouses, loading docks, parking & recreation areas, tunnels, canopies, entrances, walkways, underpasses, and many more.
Consuming less than 45 watts, the luminaire replaces HID lights of up to 175 watts—an energy savings of up to 75%—offering an output of 5,085 lumens of pure white (5000K) bright illumination through a frosted flat lens. This translates into luminous efficacy of 115 lumens per watt.
The LEDtronics wide-beam and weatherproof canopy light is easily mountable on walls or ceilings indoors or outdoors, and does not need to be dismantled for installation. Both lightweight and rugged, it is made of die-cast aluminum housing and has a high-impact, heat-resistant, polycarbonate frosted lens. The luminaire is efficiently designed to dissipate heat and distribute light evenly, with minimal glare. It effectively sends a wide-focused circular beam that spreads 110 degrees vertically and horizontally.
The fixture is IP65 rated (suitable for wet locations), and comes in a wide input voltage range of 100 to 277 VAC. It is also RoHS compliant.
This all-weather luminaire offers an extended LED lamp life of over 50,000 hours, maintenance-free operation, long-lasting durability, major energy savings, and reduced light pollution—all translating into reliability, ecological sustainability and sizable budget savings.
Other wattages and different color temperature options are available for qualified volume offers.
The LEDtronics UL-listed CNP000-45WF LED canopy light comes with a 5-year unconditional U.S. factory warranty. It is available through LEDtronics distributors, and quantity discounts are available.
For more details and technical data, visit the product web page:
http://www.ledtronics.com/Products/product_select.aspx?id=CNP000-045WF-XPW-105
About LEDtronics®
Since 1983, LEDtronics has been America's Premium Brand LED Company. We are the pioneers of designing, manufacturing and packaging LED lighting products for hundreds of industries and thousands of customers, including 80 percent of Fortune 500 companies and all the major national and regional US distributors. LEDtronics is proud to have been manufacturing in the USA for over three decades now. The company is a qualified Government and Defense supplier (CAGE code 8Z410), and over 600 National Stock Numbers (NSN) have been assigned to our products over the years. All of our products come with an UNCONDITIONAL U.S. factory warranty.
For more information on how to incorporate this energy-saving, low-profile, indoor/outdoor LED canopy light into your lighting plans, contact LEDtronics by...
Website: www.LEDtronics.com
Phone: 1-800-579-4875
E-mail: info@ledtronics.com
Fax: 310-534-1424
Company Address: 23105 Kashiwa Court, Torrance, CA 90505
More from Electronic Components & Devices