LED Surgical Headlight delivers 225,000 lux.
Press Release Summary: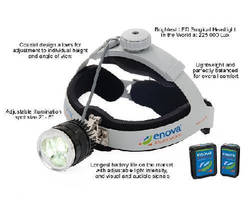 Delivering pure white light at 6,100° Kelvin for true tissue rendition, Cyclops XLT-225 uses 2 extended brackets that provide coaxial articulation, enabling surgeons to adjust lamp to individual height and angle of view requirements. Adjustable aperture allows surgeon to create spot size from 2–5 in. in diameter with precision and focus. Designed to balance on surgeon's head, headlight is equipped with extra thick replaceable foam headband liner for comfort.
---
Original Press Release:

Enova Illumination Celebrates 10th Anniversary at Cutting Edge of LED Surgical Headlight Innovation; Introduces Newest and Brightest LED Surgical Headlight in the World



SAINT PAUL, Minn., -- Celebrating a major anniversary and launching a new LED surgical headlight at the same time is fitting for Enova Illumination. In 2005, when the company introduced the Halo LED surgical headlights, LED technology was a new concept for the surgical suite. Since then, Enova has been at the forefront of LED surgical headlight innovation and has focused on providing the brightest, lightest and most dependable LED surgical headlights available.



Introducing the Cyclops XLT-225

Over the past 10 years, Enova has introduced three series of headlights, seven different headlight models, and two different series of digital batteries. The company's newest headlight is the Cyclops XLT-225. At 225,000 lux, the XLT-225 is the brightest LED surgical headlight now on the market. Similar to all Enova LED headlights, the XLT-225 illuminates pure white light at 6100 degrees Kelvin for true tissue rendition.



It is also one of only two coaxial LED surgical headlights--the other being Enova's Cyclops XLT-125--available. Two extended brackets provide superior co-axial articulation--a feature that lets surgeons adjust the lamp to their individual height and angle of view requirements--and can be used with or without loupes. Coaxial flexibility also reduces stress on the neck and shoulders. An adjustable aperture allows a surgeon to create a spot size as small as 2" to as large as 5" in diameter with precision and focus.



The headlight is designed to balance perfectly on the surgeon's head. Extra thick replaceable foam headband liner makes the XLT-225 comfortable to wear during long surgeries. This headlight is recommended for surgeons performing cardio-thoracic, deep cavity, general, orthopedic, ortho trauma, neuro, spine, and urology procedures.



Enova is also introducing a new set of digital battery packs to be used with its LED surgical headlights. Called the PP2 and the PP4, these digital battery packs are longer, thinner and narrower than the company's original digital battery packs. Both PP models easily fit into a surgical scrubs pocket or clip onto a surgical belt, are rechargeable, and have battery lives on a single charge which range from 2 hours to 24 hours depending on the battery pack, the LED headlight model, and the light intensity setting used. Because the PP2 and PP4 are digital battery packs, there is no light degradation.



Brief Look at Enova History

The PP model digital battery packs are another in a growing list of innovations by Enova Illumination in response to surgeons' needs. In 2012 the company introduced the Cyclops XLT-125, its first coaxial headlight. In 2007, Enova introduced its Iris Series, which included the S-50, Iris 100 and D-200 as well as new digital battery packs. The Halo Series, which was launched in 2005 and used a rechargeable battery pack attached directly to the headband, was the company's first LED surgical headlight and one that is used by many surgeons still.  Celebrating 10 Years of Enovation.



About Enova Illumination - Enova Illumination, a privately held company, stands alone as the first LED surgical headlight designer and manufacturer in the industry. The company's headlights are in the finest clinics, hospitals, universities and military bases around the world. Enova's sole focus is to create innovative products to advance medical and surgical illumination and, since 2005, the company has been mastering LED illumination for surgical practices from deep cavity surgery to oral surgery. For more information, visit www.enovaillumination.com.



For more information, contact:

Elise Schadauer, 612.822.3074

Related