LED Spotlight Bulb has maximum power draw of only 8.5 W.
Press Release Summary: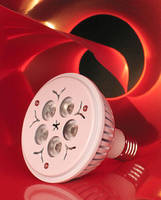 Made up of five 3 W LEDs, medium-beam PAR30 LED bulb produces 337 lumens of vivid warm-white light and has standard 26 mm Edison screw-in base and light optimizing design. It is available in 3,000 K warm white color temperature, provides about 40 lumens/W (at 141 mA), runs on voltage range of 85-260 Vac current, and has CRI of 83. Complying with RoHS, white-body lamp is lead-free and mercury-free directive, as well as CE safety assured.
---
Original Press Release:

High-Power White Body PAR30-Style Narrow-Beam LED Bulb Uses Only 9 Watts to Replace 50-75-Watt Halogens, Runs on Wide Voltage Range



TORRANCE, CA - May 22, 2009 - LEDtronics® announces the latest addition to its series of high-power PAR30-style LED spotlight bulbs. The white-body, medium-beam PAR30 LED bulb is made up of five 3-watt LEDs and replaces filament-based PAR30 bulbs, combining advanced Light Emitting Diode (LED) technologies, standard 26mm Edison screw-in base and light optimizing design, producing 337 lumens of vivid warm-white light.

The 25-degree-beam PAR30A LED bulb runs on a voltage range of 85V to 260V AC current, and thus can be used anywhere in the world. Other voltages like 12V AC or DC are optionally available for qualifying customers. The rugged LEDtronics PAR30A-style lamp is a direct screw-in replacement for 50W to 75W PAR30 incandescent or halogen bulbs, but typically has a maximum power draw of only 8.5 Watts. With up to 85% energy savings, high shock/vibration resistance and long-lived, high-power white LEDs -lasting up to 50,000 continuous hours - you can see the savings quickly add up. The PAR30A LED lamp is available in 3000-Kelvin Warm White color temperature, provides about 40 lumens per watt (at 141 mA), and has a high color-rendering index of 83.

Since it uses LEDs instead of standard filaments, this energy-efficient bulb never gets hot and is safer and more economical than halogen bulbs, making it ideal for floodlights and other household and commercial light fixtures.

Designed for customers requiring the highest levels of brightness and efficacy, the new white-body PAR30A bulb has a wide range of applications: Recess or track lighting, accent lighting, general area lighting, architectural and landscape lighting, display-case fixtures and cabinet lighting, signage spotlighting and backlighting, aerospace lighting systems, industrial OEM equipment lighting, biomedical applications, and truck-bay dock lighting, to name only a few.

The LEDtronics PAR-30A bulb complies with RoHS, the lead-free and mercury-free directive, as well as the CE safety assurance. It is ideal for use with alternative or renewable energy resources - solar and wind power. Since it produces no harmful ultraviolet or infrared rays, it reduces light pollution, and it is compatible with the international "dark skies" initiative.

About LEDtronics

Founded in 1983, LEDtronics® is a leading global innovator in designing, manufacturing and packaging state-of-the-art LEDs to meet the world's constantly changing lighting needs. Its inventive product line encompasses an array of direct incandescent lamp replacement Based LEDs, low-cost snap-in and relampable Panel Mount LEDs, high intensity sunlight-visible Discrete LEDs, PCB LED circuit board status indicators, surface mount diodes SMT LED, full-spectrum rainbow RGB LEDs, Infra-Red (IR) LEDs, and Ultraviolet (UV) LEDs.

The list price for each PAR30A-15W-XIW-001M-W LED bulb is $75.65. Large-quantity discounts are available for qualified distributors. Availability is stock to 6 weeks. It carries a three-year limited warranty.

For additional information on how to incorporate energy-saving PAR30A LED bulbs into your architectural lighting designs, contact LEDtronics toll free at 1-800-579-4875, telephone 310-534-1505, fax at 310-534-1424, email us at webmaster@ledtronics.com, or postal mail at LEDtronics, Inc., 23105 Kashiwa Court, Torrance, CA 90505. Visit our website at: LEDtronics.com.

For additional details, the direct web link to the white-body, medium-beam PAR30A LED bulb is:
http://www.ledtronics.com/products/ProductsDetails.aspx?WP=C817K747

For Technical Information Contact:

Jordon Papanier

310-534-1505

More from Portable Tools