LED Roadway Light creates, stores, and regenerates power.
Press Release Summary: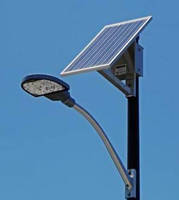 Consuming 15–70 W, SEPCO™ SolarWarp9 LED Outdoor Luminaire is 100% solar-powered with minimum of 5 days autonomy of stored power, ensuring backup power to cover inclement weather. Pole-mounted unit comes in 4 light distribution patterns, delivering direct-downward crisp white light along public or private areas, roadways, parking lots, and walkways. Constructed with precision-tooled die-cast aluminum housing and doors, luminaire has individual dimming drivers sealed to IP66/IP67 standards.
---
Original Press Release:

New "SolarWarp 9 LED" Area/Roadway Light Creates, Stores, Regenerates 100% of Its Own Power



New Product Introduction: SEPCO™ SolarWarp9 LED—100%solar powered pole-mounted LED area, roadway, parking lot and walkway lights. Sleek low-profile light units provide crisp white, ultra long-lasting light precisely where needed at motorist and pedestrian levels; 100% independent of any electrical utility grid system, 100% integral solar-powered at all times; self-storing and self-recharging.



Product Design: An original in-house design from SEPCO's expert solarlighting product development and engineering team.



Manufacturer: SEPCO™, a national family-run solar outdoor lighting company exclusively, founded 1994. A U.S. manufacturer whose complete solar-lighting systems are produced in the USA.



Product Applications: A single SEPCO™ SolarWarp9 LED outdoor luminaire can replace most metal halide, high-pressure sodium, linear fluorescent or CFL lights in the same outdoor area, parking, road or walkway applications— whether easy retrofit or new installations.



SEPCO™ SolarWarp9 LED consumes just 15 to 70 watts, has a minimum of five days' autonomy of stored power, ensuring the backup power to cover inclement weather. SEPCO™ low-profile solar-power assemblies are integral to the light head and light pole. They are sized according to customer needs, installation location, site conditions, requirements and preferences.



SEPCO™ SolarWarp9 LED is available in four light-distribution patterns, five mounting options. Each model and wattage saves 100% of electrical energy, minimizes light maintenance and costs, lasts decades. SolarWarp9 LED qualifies for LEED-point credits or rebates on projects. These light units exemplify the most energy-efficient, most cost-efficient, contemporary luminaire- and light output designs available anywhere today.



SEPCO™ SolarWarp9 LED places direct-downward, high color-rendition light along public or private areas of any kind: primary, secondary or tertiary roads; pedestrian walkways; public/private parking lots or curbsides throughout cityscapes, suburban, semi-rural or rural applications. SEPCO™ SolarWarp9 LED is Dark-Sky™ compliant, low-glare; minimizes light trespass, spillover or wasted light.



Product Description: SEPCO™ SolarWarp9 LED has a slender, uniformly curved aerodynamic light head, similar to a standard Cobrahead. It complements and enhances newer or older site areas, structural architecture, roadways and walkways.



It retards airborne debris or moisture buildup. Less heat trapped within a SEPCO™ SolarWarp9 LED luminaire significantly reduces junction temperatures; maximizes LED light output; has 50,000-hours-plus rated lamps and component life. Critical components remain cool. No grates, screens or other debris-control devices needed.



Compact solar-panel assemblies for SEPCO™ SolarWarp9 LED are selected and programed by SEPCO™ in-house solar-lighting specialists to automatically recharge concealed storage-batteries, customizing illumination to location and use.



SEPCO™ SolarWarp9 LED light-pole options are available in accordance with power-assembly size, wind-load requirements, above- or in-ground bases. Tapered poles available in aluminum, composite fiberglass, or galvanized steel. LEDs are in square or rectangular patterns, on thermally-efficient metal-clad circuit boards. SEPCO™ SolarWarp9 LED has no additional at-installation ventilation requirements. IESNA Type II, III, IV, V light-distribution patterns available.



Individual LED dimming drivers are sealed to IP66/IP67 standards; are on the inside of a removable screw-fastened swing-down door. A field-rotatable, twistlock photo-control receptacle is optionally available for use with standard or "smart" light-control devices. SEPCO™ SolarWarp9 LED is UL and CSA listed for wet locations, employs UL recognized components. It is RoHS compliant, meets Buy American ARRP provisions, is made in the USA.



Construction and Finishes: SEPCO™ SolarWarp9 LED housings and doors are precision-tooled die-cast aluminum. Polyester powder-coating finishes are standard. Units employ Lifeshield™ thermal-regulation circuitry, controlling driver current to the LEDs. If necessary, Lifeshield™ reduces current to ensure maximum operating temperature of components is not exceeded.



Contact Information: Literature, specifications and pricing for SEPCO™ SolarWarp9 LED, or any of the wide-ranging SEPCO™ solar-power outdoor area, roadway, walkway and other lighting, can be obtained by contacting SEPCO™, Solar Electric Power Company, 1521 SE Palm Court, Stuart, Florida 34994. Telephone: (800) 974-9918 or (772) 220-6615. Fax: (772) 220-8616. Email: info@sepconet.com.  Learn more about SEPCO™ from the WorldWideWeb at:

http://www.sepco-solarlighting.com.

Related