LED Retrofits replace linear fluorescent troffers.
Press Release Summary: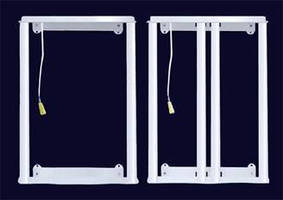 UL-listed and DLC-recognized, 2 x 2 ft LED Retrofit models convert 2 x 2 ft T8 or T12 U-shape fluorescent ceiling troffers to linear LEDs. Products reuse existing ceiling troffers; produce evenly distributed, flicker-free, white light; and have 85,000 hr operational life. Available in 3500K, 4000K, and 5000K, lights consume 22 W while producing 2,300 lm with 83 CRI. Four-lamp version replaces two 1-5/8 in. U-shape fluorescent lamps and consumes 52 W while producing 5,380 lm with 83 CRI.
---
Original Press Release:

Litetronics® Adds Two New 2x2 Models to its State-of-the-Art LED Retrofit Family - Allows Easy Conversion from Linear Fluorescent Troffers to LED



• Newest Litetronics® LED Retrofit models provide savings of 50%or more versus existing recessed or surface-mounted T8 or T12 fluorescent troffers.



• LED Retrofits install in less than 5 minutes.  Patented "rare-earth" magnet system affixes to troffer and allows "hands-free" installation.



• Long-term LED operating system more than doubles that of T8 or T12 U-shaped fluorescents.



New Product Introduction:  Two new 2' x 2' LED Retrofit models expand Litetronics® innovative patented system to easily convert conventional 2'x 2' T8 or T12 U-shape fluorescent ceiling troffers to much more energy-efficient linear LEDs.  Result is an inexpensive, energy efficient, ultra long-life, maintenance-free interior lighting system for a wide variety of commercial, industrial and institutional end users.  In each case, the 2' x 2' LED Retrofits economically reuse a facility's existing ceiling troffers.



Design:  Litetronics® In-House Design and Engineering team.



Manufacturer:  Litetronics® International, a U.S. company supplying state-of-the-art lamps and lighting products to commercial markets for more than 40 years.



Product Applications:  Litetronics® two new 2'x 2' LED Retrofits provide superior energy savings and operating life compared to linear fluorescents.  They each provide evenly distributed, flicker-free luminous white-light output sought for professional specification and installation in today's office and other commercial buildings, retail stores, manufacturing plants, medical facilities, schools and warehouses.



Product Description:  Litetronics® 2'x 2' Two-Lamp LED Retrofit replaces typical U-shape linear fluorescent T8 lamp systems, consumes only 22 watts while producing 2300 lumens with a CRI of 83.  Its rated operating life of 85,000 hours per Litetronics® unit, lets facility owners and operators enjoy 50% energy savings or more compared to T8 or T12 U-shape linear fluorescents, throughout years of use.  Litetronics® 2'x 2' Two-Lamp LED Retrofit is available in 3500, 4000 and 5000K, is UL listed, DLC recognized and backed by a 7-year factory warranty.



The 2'x 2' Four-Lamp LED Retrofit replaces two 1-5/8" U-shape fluorescent lamps, consumes 52 total watts while producing 5380 lumens with a CRI of 83.  Its rated operating life of 85,000 hours per Litetronics® unit, lets facility owners and operators enjoy 50% energy savings or more compared to T8 or T12 U-shape linear fluorescents, throughout years of use.  Litetronics® 2'x 2' Four-Lamp LED Retrofit is available in 3500, 4000 and 5000K, is UL listed, DLC recognized and backed by a 7-year factory warranty.



Installation of both the new 2'x 2' Two-Lamp LED Retrofit and 2'x 2' Four-Lamp LED Retrofit is swift (three minutes typical retrofit, start to finish) and easy.  It greatly reduces labor cost of complete fixture replacements or other LED retrofit kits.  After removing lamps, ballast cover and ballast, each of the new 2'x 2' LED Retrofits literally pop securely into the existing troffer housing.  They are securely held in place with Litetronics® patented "rare-earth" magnetized system, allowing a hands-free completion of installation and connection.



Litetronics® 2'x 2' LED Retrofits take the guesswork out of fluorescent troffer retrofitting for professional lighting specifiers, lighting distributors and contractors alike.  These 2'x 2' LED Retrofits are completely autonomous one-piece units, suited for 120v to 277v systems.  They avoid all time and costs of removing and recycling perfectly good ceiling fluorescent-troffer housings.



Contact Information:  Learn more about the innovative new Litetronics® 2'x 2' Two- Lamp LED Retrofit and 2'x 2' Four-Lamp LED Retrofit, or many other Litetronics® advanced-design energy-saving light sources and customer capabilities, by visiting us on line at:  www.Litetronics.com.   Litetronics® is now located at its new, expanded facility; 235 E. 171st Street, Harvey, IL 60426.  Telephone toll free:  (800) 860-3392, or (708) 389-8000.  Fax: (708) 371-0627.  Email: customerservice@litetronics.com.  Visit us on line at: www.Litetronics.com.



Click on the link to view a video showing how easy it is to install Litetronics® patent-pending LED Retrofit Kit.  Litetronics.com/viewvideo/25/product-demonstrations/led-retrofit.html

More from Fluid & Gas Flow Equipment