LED Retrofit Kits install without modification.
Press Release Summary: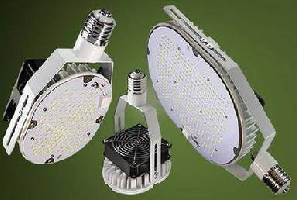 Offering true screw-in retrofit units for existing lighting fixtures, LED Universal Retrofit Kits directly replace 80–1,500 Watt HPS and Metal Halide lamps while using 35–450 W. Units offer 3 color temperatures of 4,000, 5,000, and 5,700 K with luminosity ranging from 2,870–50,765 lm. Operating from 100–277 Vac, UL-Listed units are dimmable from 0–10 Vdc and include remote-mounted driver. Solid-state lamps are constructed with aluminum-alloy heatsink and have temperature range of 22–122°F.
---
Original Press Release:

New UL-Listed LED Universal Retrofit Kits Can Be Directly Installed Into Virtually Any Existing Fixtures Without Modification



Torrance, Calif.,  – LEDtronics® Inc. announces its latest series of UL-Listed LED Universal Retrofit Kits that is a true screw-in retrofit unit for installation into just about any existing lighting fixture. Other Retrofit Kits require the user to bolt/strap in a plate or heavily modify their existing fixture to accommodate the device—This next-generation Retrofit Kit does not!



This line of LED Retrofit Kits directly replace 80 all the way up to 1,500-watt HPS and Metal Halide lamps while using only 35 to 450 watts—a reduction of energy consumption of up to 70 percent!



LEDtronics' new Retrofit Kits are so versatile that whatever the end-user's general lighting need and requirement may be, this series has a solution for it! The units have great adjustability for horizontal, vertical, angled, and pendant applications for various mounting options. The steel yoke is adjustable to conform to any type of fixture and socket alignment.



Also, because power does not come from the screw-in base, the base can be removed and the retrofit kit can be installed directly into the existing fixture for additional mounting options! The power comes from connecting the wire nuts to the external UL-recognized Mean Well driver.



The applications for this series are virtually endless! The versatile units replace old-technology lamps inside downlights, floodlights, high bays, shoeboxes, wall packs, canopies, pendants, roadway cobraheads, and more! They are ideal in such indoor/outdoor applications as factories, warehouses, indoor arenas, convention centers and stadiums, parking lots and depots, roadways and streetlights, parks, area floodlights, security lighting, wall washing, as well as driveway and walkway lighting.



The new LEDRK Retrofit Kits are available in a wide array of wattages: 35, 45, 60, 80, 100, 120, 150, 185, 240, 320, 370 and 480 watts—each with a choice of three color temperatures: Natural white (4000K), Daylight white (5000K) or Pure white (5700K). The Retrofit Kits operate on a wide voltage range of 100-277VAC.



This series of UL/cUL-listed Retrofit Kits are dimmable 0-10VDC, and include a remote-mounted driver typical to MH. The lamps have impressive luminosity ranging from 2,870 lumens (35W) to 50,765 lumens (480W)!



The line of commercial/architectural grade long-lasting, solid-state lamps is solidly constructed with a durable aluminum-alloy heatsink which, along with high-efficiency LEDs, ensures optimal thermal management and a long lifespan of up to 50,000 hours. They have a wide operating temperature range of 22°F to ~+122°F and are easily installed using the hardware included in each retrofit kit.



These indoor or outdoor-use retrofit kits prove impervious to shock, vibration, frequent switching and environmental extremes. Since they create much less heat compared to metal halide or high-pressure sodium lights, they reduce air conditioning demands in interior installations.



The ROHS-compliant LED retrofit kits contain no harmful gases or toxic elements. Unlike traditional HID units, LEDs emit little to no ultraviolet or infrared light or radio emissions. Since these lights are so much more energy efficient, they are perfect for operating with an alternative or renewable energy resource such as solar or wind power in cold or warm environments.



The LEDtronics LEDRK series of LED Universal Retrofit Kits come with a 5-year warranty. The series is available through LEDtronics distributors, and quantity discounts are available to qualified distributors. Other options are also available for large-quantity orders, such as other white-color temperatures, higher and lower wattages, higher voltages, other beam angles, and non-dimming versions.



For more information on how to incorporate these economical, energy-saving LED Universal Retrofit Kits into your facility lighting plans or architectural designs, contact LEDtronics by...



Phone: 1-800-579-4875

E-mail: info@ledtronics.com

Fax: 310-534-1424

Postal mail: LEDtronics, Inc., 23105 Kashiwa Court, Torrance, CA 90505

www.LEDtronics.com



About LEDtronics®

Since 1983, Torrance, California-based LEDtronics Inc. has been a world leader in designing, manufacturing and packaging high-quality, state-of-the-art LED lighting products for industries and customers of all kinds, including 80 percent of Fortune 500 companies. The company's vast array of products includes LED Tube Lights, Downlights, Post Tops, Canopy Fixtures, Flood Lights, Street Lights, Bay Lights, Indicator Lights, and thousands more. Directly replace your old-technology lighting with energy-efficient LED lights from the industry pioneers, LEDtronics.



For more details and technical data, visit the product family web page:

http://www.ledtronics.com/Products/ProductSearch.aspx?searchStr=ledrk



For Technical Information, or if you have custom design and/or manufacture needs, contact:

Mark Jarel (Ext 141) or Greg Krymer (Ext 168) at 1-800-579-4875, or e-mail us



Marketing Manager

LEDtronics, Inc.

(800) 579-4875 x127

http://www.ledtronics.com

More from Computer Hardware & Peripherals