LED Power Supplies are designed for lighting applications.
Press Release Summary: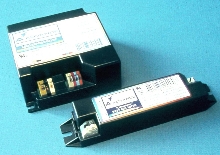 Xitanium(TM) LED drivers are rated for 50,000 hr life. Since they are UL Class 2 and FCC Class B rated, they can be used virtually anywhere, with no special wiring routing requirements. Drivers can operate as low as -40 deg C and have 90 deg C case temperature rating. Xitanium Series includes 120 V, constant output current drivers for 12 W (350 mA), 17 W, (700 mA), 25 W (1050 mA), and 40 W (1750 mA) applications.
---
Original Press Release:

Advance Introduces Xitanium(TM) LED Driver Line


First LED Power Supplies Designed Specifically for Lighting Applications

ROSEMONT, ILLINOIS-Advance Transformer Company has announced the introduction of its Xitanium(TM)-branded line of drivers for LEDs (light emitting diodes). Xitanium drivers can support a wide variety of LED-driven applications, including general illumination and sign lighting, as well as a variety of new construction and niche applications, including architectural and outdoor lighting, undercabinet lighting, and retail display.

LEDs offer the market a range of benefits-including outstanding color brightness and variety, low maintenance and high shock resistance compared to neon sources, a high degree of energy efficiency, and a compact, low-profile package. "It is becoming clear that LED technology will be key to the progress of lighting in coming years," said Alan Marble, Advance's marketing manager for LED drivers. "We have designed Xitanium drivers with the future very much in mind, and our products are already capable of handling the technological demands that tomorrow's LEDs will place on them. At the same time, we've designed Xitanium drivers to provide maximum flexibility to lighting designers, giving them the freedom they need to fulfill the potential of this exciting new lighting technology and fully utilize the benefits of LEDs as a lighting source."

According to Advance, Xitanium drivers are the industry's first product line of LED power supplies designed specifically for lighting applications. All Xitanium units are designed for maximum versatility and will work with LEDs from any manufacturer.

A key feature of the Xitanium line is the compact size and light weight of the drivers, allowing them to be easily and unobtrusively incorporated in LED lighting designs. The modular nature of the power package design gives designers maximum versatility, permitting them to tailor drivers to specific application requirements. Each Xitanium driver is rated for a
50,000-hour life, matching the rating for LEDs and assuring the long life and reliability of the lighting products the drivers power. Since Xitanium drivers are UL Class 2 and FCC Class B
rated, they are effectively "no hazard" products that can be used virtually anywhere, with no special wiring routing requirements.

Advance adds that Xitanium drivers are capable of operation at temperatures as low as -40° C, a new record for LED drivers, making them particularly suitable for outdoor applications. Their long-life performance is enhanced by their exceptionally cool operation, reflected by their generous 90 deg C case temperature rating. Xitanium drivers' long-life reliability
is backed by a 5-year warranty, equivalent to warranties carried by Advance's reliable electronic ballast products.

Advance's initial offering of Xitanium products includes 120-volt, constant output current drivers for 12-watt (350mA), 17-watt, (700mA), 25-watt (1050mA) and 40-watt (1750mA) applications. These products can also be utilized as constant output voltage drivers for operating existing LED arrays. According to Advance, the Xitanium line offerings will expand rapidly in coming months, with many new driver models and value-added enhancements.

Advance Transformer Company, a leading ballast manufacturer based in Rosemont, Illinois, designs, produces and sells a full line of magnetic and electronic ballasts for both fluorescent and
HID lamps. For more information on Advance's complete product line, visit Advance's web site at www.advancetransformer.com or call Advance at (847) 390-5000. Advance is a division of
Philips Electronics North America Corporation.

DONALD L. ARENDS, INC.; 1000 Jorie Blvd.; Suite 206; Oak Brook, IL 60523-2293; 630-990-0220; Fax 630-990-2556; arends-inc.com; input@arends-inc.com

More from Architectural & Civil Engineering Products