LED Mounts withstand temperatures to 300°F.
Press Release Summary: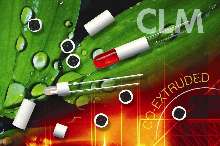 Series CLM(TM) employs bi-materials and co-extrusion process to provide alternative to injection molded spacers. Rigid outer shell with softer, shock absorbing inner lining provides rigid mount, while conforming to and simultaneously protecting leads. Mounts works with T-1, T-1¾, rectangular, square, and custom LED configurations and accept 0.100 in. pitch discrete components. Heights range from 0.030-1.125 in. in 0.005 in. increments.
---
Original Press Release:

Bivar Introduces Co-Extruded, Self-Retaining LED and Discrete Component Mounts That Withstand Higher Operating and Processing Temperatures


Patented Bivar Technology Employs Bi-Material Process To Create Low Cost Design Alternative To Injection Molded Spacers

Irvine, October 29, 2003- Designed to answer increasing demand for the use of mounts for LEDs and discrete components in applications where higher operating and process temperatures create problems for traditional mounts and components alike, Bivar, Inc. introduces the CLM(TM) Series of Co-Extruded, Self-Retaining Mounts, capable of withstanding temperatures to 300°F (150°C).

The CLM Series employs bi-materials co-extruded under a patented technology process, combining engineering polymers developed specifically for use in higher temperature applications. They are capable of exceeding the typical operating temperature limits of LEDs and many discrete components themselves. A rigid outer shell with a softer, shock absorbing inner lining provides the precision qualities of a rigid mount, while the self-retaining softer lining conforms to and simultaneously protects leads.

Ideally suited for all styles of two-leaded LEDs, The CLM Series works with T-1 (3mm), T-1 ¾ (5mm), rectangular, square and custom LED configurations, assuring accurate, uniform elevation and precision vertical positioning with a footprint of 0.200" (5.8mm). They provide a low-cost alternative to injection molded mounts and spacers by accepting all industry standard 0.100" (2.54mm) pitch discrete components, including phototransistors, TO-92 devices, resistors, capacitors, chokes, coils and inductors.

Anthony Vilgiate, Bivar Vice President, Strategic Business Development, stated, "Our initial core customer response to the CLM Series indicates the broad use potential for this design. It provides a low-cost solution that is immediately realized in comparison to injection molded products or other mounting techniques, while it's self-retaining and precision molded qualities can significantly lower assembly costs." He further stated, "We anticipate great opportunities for their use with such temperature sensitive components as Hall-effect sensors." Further value can also be realized in their added value toward reducing inventory requirements, protection of components, and as a deterrent to replacement or repair of fragile leads.

The CLM Series is available in industry's widest range of heights, from 0.030" to 1.125" in 0.005" increments. Immediately available, unit prices range from $0.034 each in 1,000 piece quantities. For more information, contact Bivar, Inc. at 800-772-2377 or visit Bivar on-line at www.bivar.com.

About Bivar, Inc.
Bivar has established an industry-leading position in the Optoelectronics and electronic PCB assembly and hardware industry, providing low-cost solutions for typical problems associated with the assembly and manufacturing processes. Founded in 1965, Bivar has continually developed unique designs for the installation of PCB-mounted devices and the packaging of PCBs in enclosures and systems. Today, the company is an active member in PICMG (PCI Industrial Computer Manufacturers Group), and international consortium of over 500 leading companies who collaboratively develop specifications and products that adapt to compact PCI technology. Bivar's Optoelectronics Division, BivarOptoÃ", features the world's largest selections of LED mounts and assemblies, and innovative LED devices, while the Bivar Enclosure and PCB Assembly Hardware Group provides an extensive selection of permanent mounts and wash-away spacers, PCB packaging products and hardware for use in the manufacturing process. Bivar obtained ISO9000 certification in 1998 supporting the company's commitment to high quality products and customer service. For more information or to receive a catalog, contact Bivar, Inc., 4 Thomas, Irvine, CA 92618-2593; Tel: (949) 951-8808; Fax: (949) 951-3974; e-mail: Info@Bivar.com; Internet: www.bivar.com.

More from Fluid & Gas Flow Equipment