LED Modules simplify integration of LEDs into light fixtures.
Press Release Summary: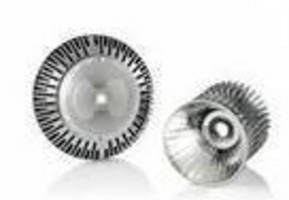 Available in reflector and puck models, Transcend(TM) Series features 4 W AC LED technology and is self-contained, requiring no additional circuitry or heat management assemblies, enabling fixture manufacturers to convert from older technologies. They can be integrated into pendant, wall sconce, track, and other types of fixtures, offering sustainable, mercury-free design. Available to fit GU-24 base lampholders, modules plug directly into AC line voltage source and offer up to 40,000 hour life.
---
Original Press Release:

Transcend(TM) Lighting Series from Leviton Brightens Opportunities for Fixture Manufacturers



Turnkey lighting solution transcends need for external power components

Melville, NY, -- Leviton Manufacturing Company, Inc. announces the availability of the Transcend(TM) lighting series, a line of easy-to-implement, plug-and-play LED modules. The compact, solid-state modules offer fixture manufacturers a simple, economical solution for integrating environmentally-friendly, high-efficiency LED lighting into their existing designs. The Transcend lighting series is self-contained and requires no additional circuitry or heat management assemblies. The net result: Fixture manufacturers now have a way to seamlessly convert older lighting technologies into a cost-effective "green" alternative.

"We have high expectations that the Transcend Series will drive widespread adoption of LED lighting on a global scale. By offering a single, easy-to-implement interface, this series eliminates the barriers to adoption presented by earlier LED technologies. It provides a way for lighting designers, fixture manufacturers, LED manufacturers and end-users to standardize on a common, cost-effective and reliable design platform with true environmental benefits," said Daryoush Larizadeh, Leviton's Chief Operating Officer.

Available in reflector and puck models, the GU-24 base modules transcend the limitations of other LED and solid state light sources which require current matches to the driver and effective management of thermal build-up. By combining all components in a single compact housing, the Transcend lighting series provides a simple way to integrate LED technology into a wide range of fixtures. The revolutionary modules can easily be integrated into pendant, wall sconce, track and other types of fixtures, offering manufacturers a reliable, sustainable design that is free of mercury and other hazardous materials.

Designed to fit in GU-24 base lampholders, Transcend modules offer a long service life (up to 40,000+ hours) and superior illumination. When used in conjunction with Leviton dimmers, the modules provide even greater levels of energy efficiency for accent, display, designer, architectural, mood and commercial and residential lighting applications.

The Transcend reflector module provides efficient LED directional light, providing a variety of beam intensities and angular distribution. The Transcend puck module provides diffused optics for ambient lighting and decorative light sources. Both products feature 4W AC LED technology and plug directly into an AC line voltage source without a converter or the need for a separate power supply. This eliminates the possibility that a power-conversion circuitry failure could cause the LED to fail prematurely.

The Transcend lighting series is part of Leviton's Smart Grid initiative. Smart Grid products offer sustainable solutions by reducing energy consumption and environmental waste and extending the service life of products connected to the power grid.

Transcend (TM) is a trademark of Molex Incorporated.

Related