LED Luminaires deliver indoor ambient lighting.
Press Release Summary: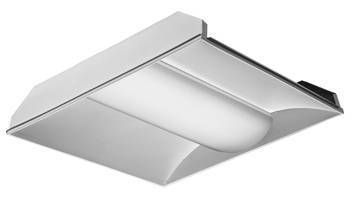 Available in 2 x 2 ft and 2 x 4 ft configurations, Lithonia Lighting® VTLED volumetric luminaries embed nLight(TM) intelligent controls and deliver ambient white light for general illumination applications. Designed to minimize maintenance and building's environmental footprint, lighting solutions deliver plug-n-play functionality as well as smooth, continuous dimming functions. Areas of use include office, retail, education and healthcare environments.
---
Original Press Release:

Acuity Brands Expands Indoor Ambient LED Lighting Portfolio with Lithonia Lighting VTLED Luminaires



VTLED luminaries are embedded with Acuity Brands nLight(TM) intelligent controls, enabling end users to significantly reduce energy savings and increase return on investment.

ATLANTA - Acuity Brands (NYSE: AYI), a market leader in innovative energy efficient lighting and control solutions, is expanding its indoor ambient LED lighting offering with the launch of the Lithonia Lighting VTLED volumetric luminaire. VTLED is a high-quality, volumetric LED fixture designed for general purpose applications. They join the RTLED, ACLED and TLED recessed LED luminaires that launched last year.

Factory-enabled with Acuity Brands nLight(TM) intelligent controls interface, VTLED delivers high-quality ambient white light for general illumination applications while reducing energy consumption, maintenance costs and a building's environmental footprint. It is also an economical solution for any project's budget.

"The VTLED is the perfect complement to the Lithonia Lighting indoor ambient LED product line, giving customers an even greater selection and flexibility when specifying high-quality LED lighting," said Dave Ranieri, Acuity Brands Vice President and General Manager, Lithonia Lighting Commercial Indoor Products.

VTLED
VTLED is a high quality, high performance LED fixture for ambient applications and general-purpose illumination. It features intelligent controls and flexible design at an exceptional value. The robust design with a classic aesthetic is versatile, making VTLED ideal for office, retail, education and healthcare environments.

VTLED smart luminaries are embedded with nLight(TM) technology. This plug-n-play functionality can be configured to achieve energy savings virtually immediately. Smooth continuous dimming functions are standard.

VTLED is available in 2'x2' and a 2'x4' configurations. For more information, visit http://www.lithonia.com/VTLED.

For more information about Acuity Brands high-quality LED lighting and controls, please visit www.acuitybrands.com. You can also become a fan of Acuity Brands (http://www.facebook.com/acuitybrands) and Lithonia Lighting (www.facebook.com/lithonia) on Facebook® and follow Lithonia Lighting on Twitter® at http://twitter.com/lithoniaLED.

About Acuity Brands
Acuity Brands, Inc. is a North American market leader and one of the world's leading providers of luminaires, lighting control systems and related products and services with fiscal year 2010 net sales of over $1.6 billion. The Company's lighting and system control product lines include Lithonia Lighting®, Holophane®, Peerless®, Mark Architectural Lighting(TM), Hydrel®, American Electric Lighting®, Gotham®, Carandini®, RELOC®, Antique Street Lamps(TM), Tersen®, Renaissance Lighting®, Winona Lighting®, Synergy® Lighting Controls, Sensor Switch®, Lighting Control & Design(TM), DTL® and ROAM®. Headquartered in Atlanta, Georgia, Acuity Brands employs approximately 6,000 associates and has operations throughout North America, Europe and Asia.


More from Software