LED Linear Lighting System suits indoor/outdoor applications.
Press Release Summary: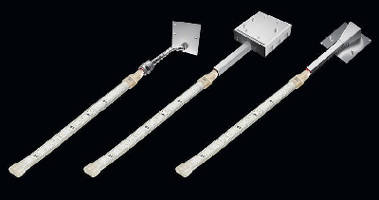 Electrician wired behind walls or ceilings and controlled by remote switch, INFINA™ Hardwired operates directly from 120 line voltage with no LED drivers or additional power source needed. Single electric line powers continuous run of 150 ft or more. Embedded within flexible, optically clear thermoplastic jacket, 3-step MacAdam LEDs produce 550Â lm output from 4.95 W/ft with efficacy of 112 lm/W and CRI of 80+. Color temperature choices include 2,700, 3,000, and 4,000 K.
---
Original Press Release:

New JESCO INFINA(TM) Outdoor and Indoor Hardwired LED Linear Lighting System



DESIGNED FOR LIGHTING CREATIVITY, BUILT FOR SOLUTIONS



New Product Introduction:  INFINA™ Hardwired — electrician wired behind walls or ceilings and controlled by a remote switch and now installed even in outdoor applications.  Operates directly from ordinary 120 line voltage.  No LED drivers or additional power source needed.  INFINA™ Hardwired is a boundlessly adaptable, low-profile, high-lumen indoor/outdoor linear LED lighting system.



Design:  JESCO Lighting Group design and engineering team.  Line voltage power system by Mag-LED.



Manufacturer:  JESCO Lighting Group, a U.S. company and employer, founded 1998.



Product Applications:  New  INFINA™ Hardwired adaptable linear LED lighting is a "game-changing" product.  It is a line-voltage system amazingly compact, lightweight and infinitely curvable.  Well suited for a wide-range of creative installations that include interior/exterior hospitality, commercial/institutional, and retail merchandising as well as upscale residential.



INFINA™ Hardwired readily conceals in and along ceilings and walls, doors and windows; natural or manmade indoor/outdoor coves, building and room interiors; in staircases, aisles, ramps, along railings and columns; in merchandise display cases and shelves; along signage, corridors, elevator banks, stairs, other perimeters and architectural elements.  Outdoor applications such as eaves, decks, gazeebos. Anywhere discreet, low-scale, easily adaptable dimmable architectural LED lighting is sought.



INFINA™ Hardwired easily adapts and conforms for myriad uses in retail stores and displays; playhouses, auditoriums; hospitality installations such as restaurants, bar and cocktail lounges; hotels, casinos, themed venues; building entrances, lobbies, reception areas; product showrooms and corporate offices; upscale residential foyers, kitchens, baths; bedrooms, closets, family rooms; studies and home offices.



Product Description:   INFINA™ Hardwired embodies a state-of-the-art LED system that operates directly from standard 120 line voltage.  A single electric line powers a continuous run of 150 feet or more.  Because no in-line or remote LED drivers are required with the INFINA™ line-voltage system, the weakest link in any low-voltage LED system is now eliminated.  Professional lighting specifiers and their clients are assured a long operating lifetime and low maintenance costs with this JESCO system. They can also expect much lower upfront and installation costs with the elimination of the additional outlet boxes and power supplies required every 20-30 feet in a typical LED strip run.  The longer a specifier or end-client's LED run, the greater their savings.



JESCO exclusive constant-current LED design where LEDs are embedded within a patent-pending flexible, optically clear thermoplastic jacket provides 50,000 hours or more of operation;  70% or greater lumen maintenance over the  INFINA™ Hardwired lifetime.



INFINA™ Hardwired measures a mere ¾-inch wide by ¼-inch high; has a precise custom cut length in 4 inch increments, and has a maximum run length of 150 feet.  JESCO LEDs employ genuine 3-step MacAdam LEDs for consistent light-color generation and output; they produce ultra-high output of 550 lumens from just 4.95-watts per foot; have a high efficacy of 112 lumens per watt, with a CRI of 80+.  Available in 2700K, 3000K and 4000K  color temperature choices.   INFINA™ Hardwired is UL rated for interior and exterior applications; c-ETL-us for interior and exterior plug-in applications. Dimmable with an electronic low-voltage dimmer.



The INFINA™ can now be hardwired into an outdoor electrical box as well as a standard surface or recessed mounted 4x4 junction box and then installed using ½" flexible aluminum conduit or ¾" rigid raceway. A paintable aluminum coverplate is supplied to flush mount onto the supply outlet box of each run. An outdoor box is supplied for outdoor applications.



Connectors in lengths of 3", 6", 12" and 24" are available for making turns, as required in coves, or to go around objects.  The entire run is factory prepared to the desired specifications and shipped to the jobsite for quick and easy installation.



A full line of LED accessories, cables and connectors are available to meet design requirements for any installation.   INFINA™ Hardwired has a 5-year factory warranty and is alternatively available as a plug-and-play system.



Construction & Finishes:   INFINA™ Hardwired is constructed from durable high-temperature, flexible, optically-clear thermoplastic polyurethane (TPU).



Contact Information:  Learn more about JESCO products and capabilities by visiting: www.jescolighting.com.  JESCO Lighting Group's new architect-designed plant, warehouse and corporate office is located at 15 Harbor Park Drive, Port Washington (Long Island), New York 11050.  Telephone: (800) 527-7796.  Fax: (855) 265-5768.  E-mail: sales@jescolighting.com. 



More from Mechanical Power Transmission