LED Light Module offers socketed solid state lighting solution.
Press Release Summary: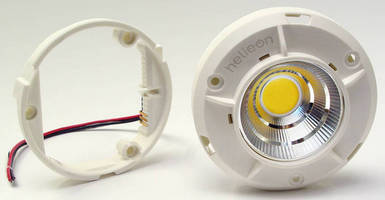 Helieon(TM) Sustainable Light Module combines solid-state LED array and Molex interconnect technology, offering socketed plug-and-play installation, interchangeability, and upgradeability. Separable source and socket system emulates traditional bulb and socket, allowing manufacturers to deliver various lighting effects. Producing 500-1,500 lm in 3000K warm white or 4100K neutral white, module also features precision optics to deliver narrow, medium, or wide flood beam angles.
---
Original Press Release:

Helieon(TM) LED Light Module to Displace Traditional Lighting with Plug-and-Play Solution as Simple to Use as a Light Bulb



Molex and Bridgelux Partner to Create Industry's Most Cost Competitive, Interchangeable and Upgradeable Solid State Lighting Solution

Livermore, CA and Lisle, IL - Bridgelux and Molex Incorporated (NASDAQ: MOLX and MOLXA) today introduced the first LED lighting solution designed and priced to drive rapid, mass market adoption of LED lighting technology. The new Helieon(TM) Sustainable Light Module combines industry-leading solid state lighting technology from Bridgelux with innovative, easy-to-use interconnect technology from Molex, delivering to interior and exterior luminaire manufacturers effortless installation, interchangeability and upgradeability. At a volume price point at less than $20 per unit* and a lifespan of more than 10 years**, Helieon is one of the industry's highest quality, most cost-effective solid state lighting solutions, and it will change the way LED lighting solutions are used. Helieon also helps lighting manufacturers reduce energy costs and environmental waste for a sustainably designed lighting environment.

"Helieon will quickly debunk the myth that solid state lighting isn't ready for mass adoption," said William Watkins, CEO of Bridgelux. "Providing high quality light and an easy and familiar installation experience at a price point to enable mass adoption, Helieon delivers on the promise of solid state lighting. With Helieon, solid state lighting is poised to displace conventional incandescent, fluorescent and other technologies in many high-volume general lighting applications, creating a $100 billion market opportunity. Together, Bridgelux and Molex are creating a new, massive market segment for solid state lighting."

Bridgelux, Molex Collaborate for Innovation
Bridgelux and Molex, both leaders in their respective industries, joined forces to create a best-in-class and price disruptive solid state light module comprised of completely recyclable components. Helieon combines LED Array products from Bridgelux with Molex interconnect technology to create a socketed plug-and-play solution that can be easily integrated into a wide variety of luminaires. The separable source and socket system emulates a traditional bulb and socket, allowing manufacturers to deliver a variety of lighting effects from a single luminaire design. Initial product offerings include between 500 and 1,500 lumens in 3000K warm white or 4100K neutral white, combined with precision optics to deliver narrow, medium or wide flood beam angles. The product's simple, adaptable design, high performance and competitive price point give lamp and luminaire manufacturers unprecedented flexibility and opportunities in design and marketing.

The Bridgelux Arrays used in the Helieon Sustainable Light Module deliver between 500 and 1,500 operational lumens (performance comparable to or greater than 40 to 75 Watt incandescent bulbs) in a compact high flux density light source. These integrated solutions deliver high quality light without pixilation, closely replicating the beam quality of traditional light sources. Patented Bridgelux technology enables an industry-leading thermal resistance with exceptional brightness and color uniformity. Helieon combines the Bridgelux LED Array with a precision beam control optic to further simplify the design process for the luminaire manufacturer and enable high quality lighting.

The Molex interconnect technology provides a remarkably easy and familiar installation experience, simplifying the design effort and allowing luminaire designers, commercial end-users and consumers to upgrade, interchange, and replace modules, altering and controlling their environment as desired. Leading the industry in defining and driving an interconnect standard, the Molex patented design can adapt to a wide range of fixture configurations.

"Helieon represents the commitment of Bridgelux and Molex to break the LED lighting mold by developing and building products designed to meet specific lighting applications and market needs," said Mike Picini, vice president of solid state lighting, Molex Incorporated. "The availability of high quality, plug-and-play, flexible, and cost-effective solid state lighting solutions such as Helieon, delivers on the promise to simplify and enable LED integration for OEM fixture makers and critical players in the transformation of the lighting industry."

Product Availability
Helieon will be available for production shipments in May. The product carries a three year warranty and provides the efficacy to enable luminaires to meet Energy Star, Title 24, Part L and other global regulatory standards. Helieon is RoHS compliant, and the companies are in the process of securing UL recognition to further simplify the design and customer acceptance process. For more information, please visit www.helieon.com and visit us at the Light + Building tradeshow in Frankfurt, Germany April 11-17; Hall 4.2 Stand J61, and Hall 4.0 Stand E36.

About Molex Incorporated
Molex Incorporated is a 71-year-old global manufacturer of electronic, electrical and fiber optic interconnection systems. Based in Lisle, Illinois, USA, the company operates 41 manufacturing locations in 17 countries. The Molex website is www.molex.com.

About Bridgelux
Bridgelux is a leading developer and manufacturer of technologies and solutions that will transform the global lighting industry into a $100 billion market opportunity. Based in Silicon Valley, Bridgelux is a pioneer in solid state lighting (SSL), expanding the market for light-emitting diode (LED) technologies by driving down costs of LED lighting systems. Bridgelux's patented light source technology replaces traditional technologies with integrated, solid state lighting solutions that enable lamp and luminaire manufacturers to provide high performance and energy-efficient white light for the rapidly growing interior and exterior lighting markets. With more than 250 patent applications filed or granted worldwide, Bridgelux is the only vertically integrated LED manufacturer and developer of solid state light sources that designs its solutions specifically for the lighting industry. For more information about the company, please visit www.bridgelux.com

*Pricing for standard lumen output product in quantities of 20K+ units **Product has an average lumen maintenance of 50,000 hours. 10-year lifespan based on 12-hours of use per day/365 days per]


More from Explosives, Armaments, and Weaponry