LED Light Fixture/RetroFit Kit are designed for wet locations.
Press Release Summary: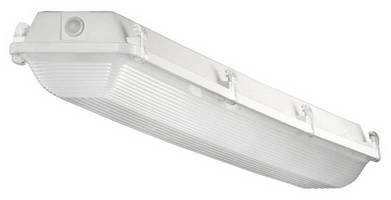 By delivering lighting efficiencies from 97–104 lm/W using LED technology, VTL vaportight fixture and VTK vaportight retrofit kit help increase energy conservation and reduce maintenance expense. Fixture uses NSF-certified and IP67-rated housing that withstands washdown pressures to 1,500 psi, and LED light engine eliminates risk of contamination from glass breakage in food-processing applications. Retrofit kit allows VTG fluorescent vaportight fixture upgrades.
---
Original Press Release:

[P2] Releases New Industrial LED Lighting for Wet Locations



VTL LED fixture and VTK LED retrofit kit provide energy-efficient lighting for wet-locations



Yorba Linda, Calif. — Today, Energy-Efficient lighting manufacturer Precision-Paragon [P2] announced the release of two new LED lighting products that are suitable for use in a variety of wet locations. The VTL vaportight fixture and VTK vaportight retrofit kit will increase energy savings and reduce maintenance costs, delivering industry leading lighting efficiencies of between 97 and 104 lumens per watt using the latest in LED lighting technology.



The fixtures are ideal for a wide variety of industrial applications including freezers, coolers, food processing areas, car wash areas and other locations where there is frequent contact with water.



"We expect food processing plants to be a popular application for this fixture," said Russell Price, [P2]'s Director of Engineering. "The VTL and VTK are a perfect fit for the stringent cleaning and maintenance requirements in food processing areas and will provide the necessary lighting for the tasks performed in those areas."



The VTL vaportight fixture uses a proven NSF certified and IP67 rated housing that can withstand wash down pressures of 1500 psi. The housing has been in use for more than five years in demanding wet-location applications across the country, and the LED light engine eliminates the risk of contamination from glass breakage in food-processing applications.



The VTK is a LED retrofit kit for [P2]'s existing VTG, a fluorescent vaportight fixture that uses the same proven housing as the VTL vaportight. It allows current owners of the VTG fixtures to easily upgrade their existing fixtures to take advantage of the latest LED technology for energy and maintenance savings.



Both the VTL vaportight fixture and VTK vaportight retrofit kit have four LED light engine options that maximize light levels while minimizing the energy used and ensuring reliable operation. The VTL and VTK are engineered for a long maintenance-free life with a reported TM-21 L70 of over 51,000 hours, calculated at 65,000 hours.



The VTL fixture and VTK retrofit kit are available immediately in a variety of configurations to further increase energy savings. Technical information and ordering guides are available at www.p-2.com, or by calling the [P2] Service Hub at (714) 386-5550.



About Precision-Paragon [P2]: For over 20 years, [P2] has made high-quality, indoor-and-outdoor light fixtures for a wide range of applications in retail, commercial and industrial spaces. [P2]'s energy-efficient lighting drastically cuts energy consumption, creating big cost savings and significant environmental benefits.



Over the last two decades, [P2] has earned a reputation for going the extra distance in customer support by producing high quality, American-made products. [P2] products are manufactured in Gainesville, Fla., Hudson, Wis., and at the company's headquarters in Yorba Linda, Calif.



Web site: www.p-2.com

Related