LED Light Engines operate on 120 Vac.
Press Release Summary: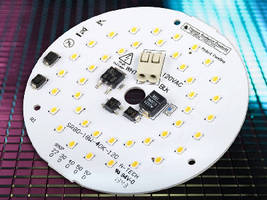 Ranging from 1–30 W, 120 Vac LED Light Engines include variety of linear, square or round, and single COB LED designs. Units offer color temperature options from 2,200–5,700 K, and some models can deliver 100 lumens/W at 80+ CRI. Versions with Warm-Dimming technology are suited for applications that require incandescent-type color shift when dimmed with standard triac dimmers, including those found in hospitality market.
---
Original Press Release:

New Direct 120V AC LED from Thomas Research Products



Huntley, Illinois --- Thomas Research Products is excited to add 120V LED light engines, which connect directly to mains power, to their expanding line of AC LED products. Thomas Research Products is a leading manufacturer of SSL power solutions.



TRP's new 120V AC LED product line includes a variety of linear, square or round, and single COB LED light engine designs. Models range from 1W to 30W, and offer color temperature options ranging from 2200K through daylight 5700K. Some configurations have output reach 100 lumens per watt at 80+ CRI.



These products were developed in collaboration with Lynk Labs, pioneers in AC LED technology.



Some models include Lynk's patent-pending Warm-Dimming technology, perfect for applications that require an incandescent-type color shift when dimmed with standard triac dimmers. First debuted in early 2012, this technology was actually one of the first CCT-shift-when-dimming solutions available in the industry. It is unique as the only CCT-shifting LED technology that operates directly on mains voltage.



The key advantage of LEDs that operate on AC is their inherent simplicity, reducing the need for complex drivers or power supplies. This makes them more robust and increases reliability. Operating on AC reduces space requirements as well as the thermal challenges. Plus, AC LEDs are natively dimmable, making them perfect for use with standard phase cut dimmers.



TRP AC light engines are ideal for a number of applications, including high power fixtures like garage and outdoor lighting, because they eliminate the cost and space of power supplies. These products are especially attractive for OEMs creating LED products for the residential market. The Warm-Dimming light engines are perfect for the hospitality market. 230V models are available for overseas markets.



TRP's new 120V AC light engines will be in addition to Low-Voltage AC LED products and complement the company's comprehensive DC-based LED Driver line. They offer OEMs more options for developing solid state luminaires. Availability begins during 1Q 2014.



About Thomas Research Products

Founded in 1997, Thomas Research Products designs and manufactures complete OEM and retrofit solutions for solid state lighting in indoor and outdoor applications. TRP offers AC and DC LED light engines, high-performing LED drivers and power accessories, including surge protectors and step-dimming modules. The company also offers energy-saving electronic controls for commercial HID and fluorescent lighting.



"SSL Solutions Faster Than The Speed Of Light" is a registered trademark.



Thomas Research Products is located at 11548 Smith Dr. Huntley, IL 60142.

Tel. 847-515-3057, Fax 847-515-3047

Website: www.trpssl.com

Email: info@trpssl.com

More from Software