LED Light Engines deliver 120 lumens.
Press Release Summary: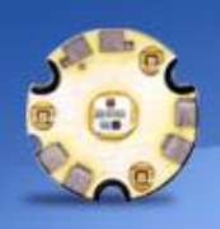 Series BL-4000 includes RGB light engines that produce up to 16 million blended colors, including white with variable color temperature, and 5,500°K white-only light engine with color rendition index of 78. Fully dimmable white LED engine is suitable for architectural lighting, desk lamps, machine vision, and flashlights. All feature ESD protection, isolated metal base for wiring on common heat sink in series or parallel, and compatibility with many LED optics.
---
Original Press Release:

Lamina Ceramics Launches "Next Generation" Super-Bright LED Light Engines


Bright Lights, Bright Ideas(TM) illuminate in RGB, White, Red, Green, Blue & Amber

WESTAMPTON, NJ - April 12, 2005 - Lamina Ceramics, Inc. today announced the launch of a new line of super bright, high power LED light engines featuring superior compatibility with emerging industry standards for drivers and optics. Smaller than a U.S. nickel, the round footprint of the Lamina BL-4000 series of 120-lumen light engines results in a less complex optic design, providing greater compatibility with a wider variety of luminaires.

Anchoring the BL-4000 series are an RGB (red-green-blue) light engine producing up to 16 million blended colors - including white with variable color temperature - and a 5,500°K white-only light engine with a color rendition index (CRI) of 78. The RGB is immediately available worldwide from Lamina distributors (see list); white and monochromatic colors will be available within 60 days. All are designed for popular drive currents, feature integrated protection from electrostatic discharge (ESD), an isolated metal base for wiring on a common heat sink in either series or parallel and compatibility with many popular LED optics.

"As the market leader in the development and manufacture of super-bright LED arrays, Lamina Ceramics is proud to once again advance the state of the art with the launch of our BL-4000 series," said Taylor Adair, president and CEO. "The many user-friendly features our engineers incorporated into these exciting devices will greatly benefit luminaire manufacturers and ultimately lighting designers and architects."

Lamina's BL-4000 line pushes solid state lighting to center stage by making possible applications which until now could only be accomplished with traditional lighting sources, and by creating many entirely new lighting opportunities. Over the last 6 months, the company set two successive world records for brightness with its Aterion LED light engines in RGB and white - the brightest LED arrays ever produced - at 13,300 and 28,000 lumens, respectively.

16,000,000 colors from a single point of light
The Lamina BL-4000 RGB+ LED array has independent input/output 3-channel color connections for dynamic or preset display of colors, delivering 120 lumens of blended red-green-blue (RGB) light through additive mixing. A wide range of white color temperatures can also be produced. The RGB+ light engine has a red, green and blue LED die arranged for optimal color mixing within each light engine, a unique feature made possible with Lamina's packaging technology. Designed for popular drive currents (350 mA), the BL-4000 RGB+ features large solder pads. Lamina's EZConnect PCB adapter and heat sinks are readily available.

"With it's 3 independently controlled, mixed and fully-dimmable color channels, the BL-4000 RGB+ opens up a huge new world of design possibilities for architainment and architectural lighting," noted Jim Anderson, Lamina's vice president of marketing. "Designers and lighting architects can now provide decorative and accent lighting in 16 million colors and at any brightness level. These tiny but powerful light engines can be used individually, or chained together in series or parallel circuits. They're also naturals for LCD display backlighting, signaling applications and signage."

120 lumens of white lights the way
While Lamina's BL-4000 series monochromatic LED light engines paint with light in red, green, blue and amber, the BL-4000 white light engine provides a daylight color temperature of 5,550°K with a color rendition index (CRI) of 78, rivaling the quality of natural sunlight. This fully-dimmable LED light engine is extremely long-lived, and is therefore suitable for many architectural lighting applications, desk lamps and machine vision as well as for flashlights.

Lamina's LED arrays are manufactured by combining high brightness LEDs from industry-leading LED manufacturers with Lamina's proprietary packaging technology, multilayer low temperature co-fired ceramic-on-metal (LTCC-M). LTCC-M is a breakthrough in thermal performance for LED packaging technology, a key factor in determining LED life and reliability. Unmatched thermal performance coupled with package interconnectivity allows Lamina to densely cluster multiple LEDs to achieve exceptionally high luminous intensity in very small footprints. Other Lamina arrays are available in white, RGB and monochrome, from 1 to 100W, and also in custom packages up to 1000W.

About Lamina Ceramics, Inc.
Founded in 2001, Lamina Ceramics defines the state of technology in the development and manufacture of super-bright LED arrays. As the market's leader, the company's Aterion LED light engines are the world record-holders for brightness. Lamina's LED packaging technology and design with its proprietary multi-layer ceramic on metal packaging provides unsurpassed thermal management and interconnectivity. Lamina's technology was twelve years in development by Sarnoff Corporation.

Lamina Ceramics is headquartered in Westampton, New Jersey, USA, (between Princeton and Philadelphia) and occupies a 50,000-square-foot state-of-the-art, automated manufacturing facility. The Lamina team consists of industry-seasoned engineering and production personnel dedicated to designing and building long-lasting light engines to exacting specifications. Lamina is supported by an industry leading global sales and distribution network. Its investors include Morgenthaler Venture Partners, Sarnoff Corporation, Kemet Electronics Corporation and SpaceVest.

LaminaCeramics.com

Jim Anderson
609-265-6809
janderson@LaminaCeramics.com

More from Optics & Photonics