LED Lamps directly replace incandescent bulbs.
Press Release Summary: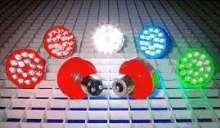 Single Contact Series B618/619 and Double-Contact Series DB618/619 are 15 mm bayonet-based 18- and 19-LED Lamps for replacement of No. 310 and 312 incandescent bulbs. Incorporating optical-grade epoxy, sunlight visible lamps offer emitting angles of 12-15° and 20-30°. Units come in 12-28 Vac or Vdc and draw between 1.0-1.7 W of power. Colors include green, white, blue, yellow and red. Infrared lamps are offered in wavelengths of 850, 880, and 940 nm.
---
Original Press Release:

LEDtronics Offers Single-Contact and Double-Contact 15mm Bayonet Based LED Lamps for Direct Replacement of Incandescent Bulbs #310 and #312


TORRANCE, CA - November 30, 2004 - LEDtronics® announces Series B618/619 Single-Contact and Series DB618/619 Double-Contact 15mm Bayonet Based 18-LED and 19-LED Lamps for direct replacement of incandescent bulbs #310 and #312. Direct incandescent replacement 15mm bayonet based LED lamps incorporate optical-grade epoxy, advanced Light Emitting Diode (LED) technologies, and standard single-contact or double-contact bayonet bases. These sunlight-visible lamps are available in 18-LED and 19-LED models. Two light emitting angles (12°-15° and 20°-30°) are offered standard; custom viewing angles are available. Choose voltages from 12V to 28V AC or DC. Eighteen-LED and 19-LED lamps draw between 1.0W to 1.7W of power. Colors available are Green, White, Blue, Yellow and Red (630nm). Infrared lamps are offered in wavelengths of 850nm, 880nm and 940nm.

Due to their solid-state construction, LEDtronics LEDs lamps are ideal for applications that are subjected to vibration, shock and environmental stress, all which reduce the life of incandescent lamps. LEDs feature almost instantaneous turn-on and turn-off without transients. Applications include indicators for process controls, aircraft instrumentation, elevator panels, automobile lighting (brake/turn/backup signals), architectural and decor applications, train doors, aircraft reading lights, medical and scientific equipment, panel mount indicator lamps and other instances where long-lived, energy-efficient light sources are required or when personal safety depends on a reliable light or status indicator.

LED lamps last 30 - 50 times longer that the incandescent lamps they replace, and their low-current, high-efficiency operation delivers power savings of 80% - 90% or more. Additionally, LED lamps produce little or no heat resulting in lighted panels and switches that are cool-to-the-touch unlike those lit by incandescent lamps. LED technology with its inherent energy efficiency makes an excellent accompaniment to photovoltaic-based energy systems. With an average life span of 100,000-plus hours (11 years), LEDs operate reliably year after year and are virtually maintenance free.

Founded in 1983, LEDtronics® leads where others only follow when it comes to designing, manufacturing and packaging state-of-the-art LEDs to meet the world's constantly changing lighting needs. Our inventive product line encompasses an array of direct incandescent lamp replacement Based LEDs, low-cost snap-in and relampable Panel Mount LEDs, high intensity sunlight-visible Discrete LEDs, PCB LED circuit board status indicators, surface mount diodes SMT LED, full-spectrum rainbow RGB LEDs, Infra-Red (IR) LEDs, and Ultraviolet (UV) LEDs.

Prices for Series B618/691 Single-Contact and Series DB618/619 Double-Contact 15mm Bayonet Based LED lamps range from $25 to $45.00 each, depending on the model and LED color. Quantity discounts are offered. Availability is 4 - 6 weeks. Samples are available for qualified customers. For additional information on how to incorporate LEDs into your designs, contact LEDtronics toll free at 1-800-579-4875, telephone 310-534-1505, fax at 310-534-1424, e-mail webmaster@ledtronics.com or mail at LEDtronics Inc., 23105 Kashiwa Court, Torrance, CA 90505. Visit our website at ledtronics.com. Ask for datasheet log #132A through 132F.

o Single-Contact D618/619 LEDs URL address: ledtronics.com/ds/B618

o Double-Contact DB618/619 LEDs URL address: ledtronics.com/ds/DB618

More from Agricultural & Farming Products