LED Flashlight operates for 73 hr on 3 AA batteries.
Press Release Summary: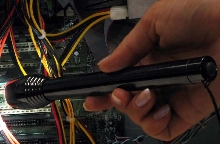 FlashLED FLT-3101 delivers 1,000 foot-candles of white light from 1 W Luxeon(TM) LED, which integrates collimator, and has operational life of more than 100,000 hr. Fully integrated flashlight head, consisting of LED lamp, lens, and reflector, optimizes light color, intensity, and dispersion. Featuring CNC-machined anodized aluminum housing with sealed rubber switch and O-rings, unit measures 8.23 in. long and weighs 2.9 oz with batteries.
---
Original Press Release:

New 1-Watt LED Flashlight Operates for up to 73 Hours of Illumination on 3 AA-Batteries


TORRANCE, CA - July 1, 2005 - LEDtronics introduces a new, powerful LED FlashLED - the FlashLED FLT-3101. Press the switch and a dazzling 1000 foot-candles of white light erupts from the 1-Watt Luxeon(TM) LEDs. (Luxeon LEDs are the brightest solid-state light source commercially available.) The powerful 1-Watt LED integrates a collimator. This long-lasting LED lamp operates for more than 100,000 hours (10 years). The fully integrated flashlight head (the LED lamp, lens and reflector) optimizes light color, intensity and dispersion. Energy-efficient, FlashLED FLT-3101 operates for 73 hours on three standard alkaline AA-cell batteries. It measures 8.23 (209mm) in length and weighs 2.9 ounces (82.2g) with the batteries installed. Use the FlashLED FLT-3101 as a reliable portable light source for examining instruments, reading maps, navigating trails, inspecting utility conduits, hunting, hiking, policing and makes an excellent reliable safety light to keep in you cars glove-box etc. . . .

Precision manufacturing makes the FlashLED FLT-3101 exceptionally reliable by creating tight connections between components, which prevents the movement of parts and loose connections. A spring loaded in the end cap maintains secure contact between the batteries and the flashlight head. The CNC-machined anodized aluminum housing enables it to withstand the toughest of tasks and working conditions. A sealed rubber switch and o-rings prevent moisture and corrosive agents from seeping in and adversely effecting operation. An etched, crosshatched rubber surface on the barrel aids handling in inclement weather. A removable wrist strap is included.

With an average LED life span of 100,000-plus hours (11 years), LEDs operate reliably year-after-year. Solid-state design renders LEDs impervious to electrical and mechanical shock, vibration, frequent switching and environmental fluctuation. LED lamps use only 10% - 20% of the energy consumed by equivalent incandescent lamps that when combined with their maintenance-free operation results in substantial cost savings.

Founded in 1983, LEDtronics leads where others only follow when it comes to designing, manufacturing and packaging state-of-the-art LEDs to meet the world's constantly changing lighting needs. Our inventive product line encompasses an array of direct incandescent lamp replacement Based LEDs, low-cost snap-in and relampable Panel Mount LEDs, high intensity sunlight-visible Discrete LEDs, PCB LEDs circuit board status indicators, surface mount diodes SMT LEDs, full-spectrum rainbow RGB LEDs, Ultraviolet (UV) and Infra-Red (IR) LEDs.

Price for the FlashLED FLT-3101 is $39.95 each. Quantity discounts are available. Availability is stock to 4 - 6 weeks for special requirements. For additional information, contact LEDtronics toll free at 1-800-579-4875, telephone 310-534-1505, fax at 310-534-1424, e-mail webmaster@ledtronics.com or mail at LEDtronics Inc., 23105 Kashiwa Court, Torrance, CA 90505. Visit our website at ledtronics.com. Ask for datasheet log #171.

The direct web link to the on-line datasheet is as follows: ledtronics.com/ds/flt-3101/

For Technical Information Contact:
Jordon Papanier at 310-534-1505
E-Mail: jpapanier@ledtronics.com

More from Material Handling & Storage