LED Driver ICs deliver flicker-free TRIAC dimming.
Press Release Summary: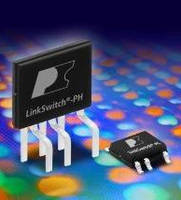 Respectively optimized for isolated and non-isolated systems, LinkSwitch®-PH and -PL, deliver flicker-free monotonic TRIAC dimming. Integrated single-stage PFC enables solid state lighting luminaires to achieve PF greater than 0.9. PH devices incorporate primary-side-control technology, and integration of PL into designs can reduce component count. Monolithic solutions incorporate controller and MOSFET onto single silicon die and operate up to 305 Vac input.
---
Original Press Release:

Power Integrations' New LinkSwitch®-PH and LinkSwitch®-PL LED Driver ICs Deliver Flicker-Free TRIAC Dimming in Solid-State Lighting Applications



Single-stage power factor correction with accurate constant-current output reduces component count in offline LED drivers

SAN JOSE, Calif. -- Power Integrations (Nasdaq:POWI), the leader in high-voltage integrated circuits for energy-efficient power conversion, today announced two new families of TRIAC-dimmable, single-stage, power-factor-corrected LED driver ICs targeting solid-state lighting (SSL) applications. LinkSwitch-PH (optimized for isolated systems) and LinkSwitch-PL (optimized for non-isolated systems) deliver flicker-free monotonic TRIAC dimming and a user experience similar to that provided by incandescent illumination.

The LinkSwitch-PH and LinkSwitch-PL product families feature integrated single-stage power factor correction (PFC), enabling SSL luminaires to achieve PF > 0.9. LinkSwitch-PH devices incorporate primary-side-control technology, which eliminates the optocoupler and supporting components used in traditional isolated flyback designs. Non-isolated LinkSwitch-PL designs further reduce component count, resulting in improved reliability and a reduced bill of materials (BOM). Both IC families are monolithic - incorporating the controller and MOSFET onto a single silicon die - which simplifies PCB layout by minimizing component count and eliminating parasitics between the controller and power MOSFET. These new LinkSwitch products are optimized for high efficiency in simple flyback designs and operate at input voltages up to 305 VAC, enabling the development of both single-voltage and universal-input products suitable for residential and commercial lighting applications worldwide.

When operated within manufacturers' temperature and drive-current guidelines, LEDs can be expected to operate for more than 50,000 hours. The weakest link in an LED lighting system is the driver circuitry, which is burdened with unreliable optocouplers and electrolytic capacitors. Power Integrations' accurate primary-side-control technology, featured in LinkSwitch products, eliminates the optocoupler, and the new LinkSwitch LED driver IC product families do not require the use of electrolytic bulk capacitors. Designers using the LinkSwitch-PL and LinkSwitch-PH for SSL products can expect the operational life of the driver to match that of its accurately controlled LED array.

Bill Weiss, lighting business development manager at Power Integrations, comments: "Both new product families are ideal for space-constrained LED drivers used in replacement lamps. The LinkSwitch-PH family, optimized for isolated designs and rated up to 50 watts output power, is also exceptionally effective for external LED ballasts, often used in downlighting, architectural lighting, signage, and outdoor lighting. Both devices reduce system BOM count and size, thereby increasing system reliability. These ICs enable designers to optimize system efficiency and meet or exceed all regulatory standards, such as ENERGY STAR(R) and EN61000-3-2."

LinkSwitch-PH samples are available now in a halogen-free, ROHS-compliant eSIP(R)-7C package, priced between $1.18 and $1.71 each for 10,000-piece quantities. LinkSwitch-PL ICs will sample in August 2010 in compact SO-8 and eDIP(TM)-12 packages. Datasheets, design ideas, and an introductory video are available on the Power Integrations website at www.powerint.com/lp/linkswitch-ph.

About Power Integrations
Power Integrations is the leading supplier of high-voltage integrated circuits used in energy-efficient power conversion. The company's innovative technology enables compact, energy-efficient power supplies in a wide range of electronic products, in AC-DC, DC-DC and LED lighting applications. Since its introduction in 1998, Power Integrations' EcoSmart(R) energy-efficiency technology has saved an estimated $4.1 billion of standby energy waste and prevented millions of tons of CO2 emissions. The company's Green Room web site provides a wealth of information about "energy vampires" and the issue of standby energy waste, along with a comprehensive guide to energy-efficiency standards around the world. Reflecting the environmental benefits of EcoSmart technology, Power Integrations is included in clean-technology stock indices sponsored by the Cleantech Group (Amex: CTIUS) and Clean Edge (Nasdaq: CELS). For more information, please visit www.powerint.com.


More from Chemicals & Gases