LED Displays allow remote viewing of scale information.
Press Release Summary: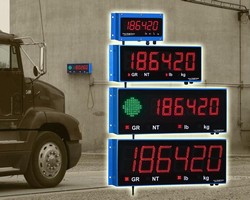 Available with six 2, 4, or 6.5 in. wide LED digits and non-glare filtered lens, XR Series Remote Displays allow clear visibility in all lighting conditions at distances up to 325 ft. Photo sensor adjusts display intensity to select between 8 brightness levels for day and night operation. Auto-Learn technology helps interpret communication format and data stream of any instrument for plug-and-play operation. All models feature integrated RF socket for wireless communications.
---
Original Press Release:

Remote Displays Offer Largest, Brightest LED Display and Auto-Learn for Plug-and-Play Operation



Fairmont, MN-September 18, 2006-Avery Weigh-Tronix, Inc., has introduced its high quality XR Series Remote Displays that provide bright, clear characters for remote viewing of scale information. The XR Series offers the largest LED digits available industry wide-2", 4.5" and 6.5"-and the brightest for easy viewing indoors or outdoors and in direct sunlight. Along with the integrated Auto-Learn technology, the XR Series is ideal for a wide variety of applications in the food & beverage, natural resources, waste, chemical and transportation & warehousing industries. With many features included as standard, the XR Series models are an excellent value and competitively priced starting at $845.

"The XR Series Remote Displays offer high-performance optical LEDs and a non-glare filtered lens for clear visibility in all lighting conditions and at long distances-up to 325 feet depending on the model," said Larry Behrens, product manager for Avery Weigh-Tronix. "A built-in photo sensor automatically adjusts display intensity to select between eight brightness levels for day and night operation." Behrens added, "Some models offer an integrated red/green traffic light and like other models can control an external traffic light with a built-in relay."

The XR Series' intuitive Auto-Learn technology makes installation quick and easy. Auto-Learn automatically interprets the communication format and data stream of virtually any instrument for true plug-and-play operation-without pushing buttons or setting switches-making the XR Series models the smartest remote displays available.

All models feature an integrated radio (RF) socket that allows wireless communications over thousands of feet using standard 900 MHz technology. Users simply plug the optional RF module inside the remote and connect a base transceiver to the indicator or PC.

Applications. The XR Series are a flexible and ideal solution for trouble-free display operation when integrated with a wide variety of industrial weighing equipment, including:
Truck scales
Rail scales
Batching systems
Tank scales
Floor scales

Features. Many built-in features make the XR Series particularly easy to install and use.
Durable, powder-painted, weatherproof enclosure for long lasting protection and reliability in harsh indoor and outdoor environments.
Choice of 2", 4.5" or 6.5".
Six digits with decimals and high-intensity annunciators for displaying gross, net, lb and kg units.
Bright, easy-to-see red LED lamps for approximately 11.5 years of continuous operation.
Mirror function for displaying information in the correct orientation when viewed through a mirror.
Power saving mode assures efficient operation during periods of inactivity.
Integrated red/green traffic light (XR 4500TL model).
Controls external traffic lights with a built-in relay (XR 4500, XR 4500TL and XR 6500 models).
Easy serviceability with drop-down electronics.
Pre-installed utility programs for various weighing applications.
Up to 4 units can operate from a single serial connection.
Operates from -40° F to 120° F (-40° C to 54° C) at 0% to 100% humidity.
Available with a variety of pole mounting kits and visors.
Supports 12, 350 ohm Weigh Bars®; expandable to 16
Powered by 110-230 VAC

The XR Series Remote Displays come with a 2-year limited factory warranty.

For more information or to find the nearest Avery Weigh-Tronix equipment supplier, please visit the company's website at www.wtxweb.com or call 800-368-2039.

Avery Weigh-Tronix is a pioneer in the design and manufacture of innovative precision electronic weighing devices and control systems.. For further information, contact:
Avery Weigh-Tronix, LLC.,
1000 Armstrong Drive,
Fairmont, MN 56031.
Phone: 507-238-4461 ext 471
Fax: 507-238-8224
email: industrial@weigh-tronix.com
Web: www.wtxweb.com

More from Optics & Photonics