LED Display withstands temperature extremes, rugged conditions.
Press Release Summary: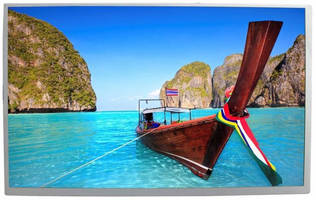 Built to withstand harsh conditions, PM102ZY3 has life cycle of 5 years and is suited for use in industrial GPS units or outdoor applications where extended temperature performance is required. This 10.2 in. WSVGA TFT display, with native resolution of 1,024 x 600 pixels, operates over -20 to +80°C range and is illuminated via 48 LED backlight. Screen brightness is rated at 350 nit, and display produces 262,144 colors and supports TTL/RSDS interface.
---
Original Press Release:

AZ Displays' PM102ZY3 Withstands Extreme Temperatures and Rugged Conditions



The Industry Unique 10.2" WSVGA TFT Display Offers a Wide Screen Format with Support for Three to Five Years Targeting the Industrial Market

Aliso Viejo, Calif. - Responding to customer needs for a larger TFT wide screen display in the 10 inch category that can withstand harsh conditions, AZ Displays, Inc. has announced the release of its PM102ZY3 manufactured by Prime View (PVI)/E-Ink.

The PM102ZY3 is a 10.2 inch WSVGA TFT display with a native resolution of 1024 x 600 pixels. "Currently, the industry standard is only a 10.1 inch consumer grade screen that can operate within a restrictive 0-50 degrees C," said Jim Kennedy, president, AZ Displays. "The PM102ZY3 has been designed to offer our customers a product that can be used in more extreme conditions, providing them expanded application possibilities."

Further improving on the industry standard TFT display, AZ Displays has increased the product's life cycle from the industry standard 18 months to up to five years. "The short life cycle of other TFT displays does not work for many customers who require a product with long term support without changes," said Kennedy. "Our improvements make this product ideal for use in industrial GPS units or for rugged outdoor applications where extended temperature performance is required."

Key attributes of the PM102ZY3 TFT display include a wide operating temperature range of -20 degrees C to +80 degrees C, a low power LED backlight and a small outline rugged packaging that measures 235 mm wide by 146 mm high by 6.2 mm deep.

Samples and pricing for the PM102ZY3 can be ordered by contacting AZ Displays at sales@AZDisplays.com. Optional features that can be requested include the application of touch screens, high bright low power LED backlight assemblies, open frame assemblies, paired driver/controller boards with both standard 6 bit digital TTL interface or LVDS interface conversion, and enhancements to 1K nits for true outdoor viewing ability. To learn more, please visit www.AZDisplays.com.

About AZ Displays
Headquartered in Aliso Viejo, Calif., AZ Displays, Inc. is widely recognized for its high standards in traditional craftsmanship, engineering excellence and its commitment to creating products of the highest quality. AZ Displays offers a broad range of standard character and graphics LCD modules, color TFTs, custom modules and value-added-services designed for the industrial OEM market. Additionally, AZ Displays provides competitive pricing, on-time deliveries and superior customer service. All products undergo quality assurance testing at the California headquarters. For more information follow AZ Displays on Twitter at www.twitter.com/azdisplays or visit www.azdisplays.com.