LED Bulbs replace incandescent lamps.
Press Release Summary: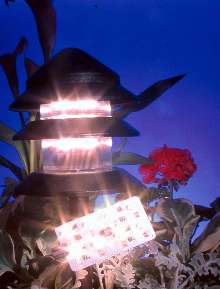 GardenLED Series GDL001 LED Bulbs replace 7 Watt LV526 T5 Wedge Base Incandescent lamps used in malibu-styled landscape lighting fixtures. Linear-configured LED lamps feature T5 wedge base and 16 white 5 mm LEDs on double-sided PCB. Units draw 1.3 W of power and are used in 12 V systems, making them suited for solar-powered systems and other alternative power generating systems. LEDs offer average life span of 100,000 hr and are impervious to environmental extremes.
---
Original Press Release:

LEDs Change the Landscape of Outdoor Lighting


TORRANCE, CA - April 19, 2004 - LEDtronics is taking a grass roots approach to converting incandescent installations to the benefits of LED technology with introduction of the GardenLED Series GDL001 Direct Replacement LED Bulbs for 7 Watt LV526 T5 Wedge Base Incandescent lamps used in popular malibu-styled landscape lighting fixtures. The linear-configured LED lamp features a T5 wedge base. It has 16 White 5mm LEDs (8 per side in two columns of 4) on a double-sided PCB and draws only 1.3 Watts of power compared with the 7 Watts used by the incandescent lamp, resulting in lower electric bills. Not only does the GardenLED Series GDL001 lower your power usage, it also reduces maintenance costs since LEDs last for an average of 100,000 hours. That's over 10 years! Multiply the savings by the number of landscape lighting units installed and the savings is significant. The GardenLED Series GDL001 bulb is for use in 12V systems, which makes it the ideal illuminator for solar-powered systems and other alternative power generating systems. Groundskeepers, landscape architects, and environmentally aware consumers will find these lights to be excellent replacements for short-lived, energy-hungry incandescent installations.

Solid-state design renders LEDs impervious to electrical and mechanical shocks, vibrations, frequent switchings and environmental extremes. Lamps perform well in applications subjected to voltage dips or surges. Integrated current-limited resistors and polarity-protection diodes assure that no circuit modifications are required. Additionally. with the use of multiple LEDs, an LED cluster lamp continues to provide light even if one or more emitters fail unlike when the filament breaks in an incandescent bulb.

With an average life span of 100,000-plus hours (11 years), LED lamps operate reliably year-after-year making them ideal lights for decorative and night task lighting and applications such as large message panels, billboards, scoreboards, time and temperature signs, arcade machines, casino accent lights, theme LEDs Change the Landscape of Outdoor Lighting and amusement parks, stage lights, carnivals, theaters, elevators, aviation instruments, automotive cabin lights, railroads, bridges, display counters and ornamental lighting tasks. LEDs can be used as individual pixels in large dot matrix screens, full-color screens, animated signs and displays. LED lamps use only
10% - 20% of the energy consumed by equivalent incandescent lamps that when combined with their maintenance-free operation results in substantial cost savings.

Founded in 1983, LEDtronics® leads where others only follow when it comes to designing, manufacturing and packaging state-of-the-art LEDs to meet the world's constantly changing lighting
needs. Our inventive product line encompasses an array of direct incandescent lamp replacement Based LEDs, low-cost snap-in and relampable Panel Mount LEDs, high intensity sunlight-visible Discrete LEDs, PCB LEDs circuit board status indicators, surface mount diodes SMT LEDs, full-spectrum rainbow RGB LEDs and Infra-Red (IR) LEDs.

Prices for GardenLED Series GDL001 LED Bulbs begin at $29.95, depending on quantity and color. Availability is stock to 4 - 6 weeks for special requirements. For additional information on incorporating LEDs into your designs and installations, contact LEDtronics toll free at 1-800-579-4875, telephone 310-534-1505, fax at 310-534-1424, e-mail webmaster@ledtronics.com or mail at LEDtronics Inc., 23105 Kashiwa Court, Torrance, CA 90505. Visit our website at ledtronics.com. Ask for datasheet (log #104). The URL address is as follows: ledtronics.com/ds/GDL001

More from Agricultural & Farming Products