LED Billboard System optimizes outdoor advertising.
Press Release Summary: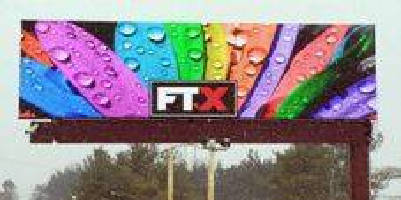 Featuring open box design that eliminates need for cooling fans, FTX Digital Billboard is available in 5 sizes, suitable for indoor and outdoor advertising. Grid-based LED tile design facilitates repairs, while sealed, weathertight LED tiles and connectors eliminate common problems associated with typical electronic billboards. With specialized billboard software, owners receive live diagnostic feedback.
---
Original Press Release:

Formetco Launches Innovative LED Billboard System



Incredibly vivid colors, sharp images, and a 10 year LED Brightness Warranty



Atlanta, GA, USA – Formetco today announced the official launch for the new FTX digital billboard design.  The FTX uses state-of-the-art technology to deliver an outdoor advertising display with unparalleled image quality, performance reliability, and owner satisfaction.  An item of particular value, and previously unavailable in the industry, is the exclusive Formetco 10 year LED Brightness Warranty.



Why the FTX was developed

"The FTX was designed to be a superior billboard among any other billboard product in the world.  Our objective is to take both owner and advertiser  satisfaction to new heights," said Todd Heller, Vice President, Formetco.



Formetco invested time to identify the top concerns of billboard owners and outdoor advertising companies.   Each customer concern was isolated and assigned a team whose mission was to find a solution.  The development teams exceeded expectations with well engineered design improvements.  The improvements were combined to produce the FTX system, which is now the best engineered LED billboard on the market.



The FTX system, a superior billboard design

The FTX billboard system improves the advertiser's visibility and control, and provides for vast improvements in lowering cost of ownership and repair needs.  A grid based LED tile design makes display repairs fast and easy.  Significantly reducing the number of electrical connections and using weather tight sealed LED tiles and connectors eliminates numerous areas of common problems with typical electronic billboards. Multiple safeguards and system redundancies affect a more reliable performance from critical components of the system.



Green friendly features provide ownership benefits

An open box design eliminates the need for cooling fans which require replacement, and the absence of fans means lower power consumption.  The new energy efficient power system further lowers power consumption.



The FTX technology is available in five sizes of display signs making it perfect for indoor and outdoor advertising.  FTX technology can also be retrofit into existing billboard structural framing for upgrading to a high visibility sign.



24 hour monitoring, live support and service

Formetco FTX billboard owners benefit from an in-house support team, SmartLink technology and a nationwide network of service providers.  Specialized billboard software provides live diagnostics feedback, and the Formetco network operations center also uses visual monitoring of FTX billboards.  Service issues are identified immediately, and with our remote troubleshooting repair technicians can be dispatched promptly.



The exclusive Formetco 10 Year LED Brightness Warranty

Only Formetco offers a 10 year LED Brightness Warranty.  Formetco also provides a 5 year parts warranty, and labor warranties.



The bottom line on the FTX billboard is an incredibly vivid, color rich and sharp display, with lower operating costs and superb 24 hour customer support every day of the year.



About Formetco

Formetco is a leading digital LED billboard manufacturer for outdoor advertising solutions. Located in north metro Atlanta, Georgia, Formetco provides design, production and installation services for customers throughout the United States.  Formetco leverages 50 years of industry experience, and tech savvy talent, to lead the way in digital LED billboard design.



Contact

For more information you can visit the FTX website at http://formetco.com/FTX or get in touch with:



For press, technical questions or general inquiries

Jock Gibb,

Formetco - Vice President of Sales

1-800-367-6382  |   Sales@Formetco.com

More from Test & Measurement