LED Assemblies achieve output of 330 lumens.
Press Release Summary: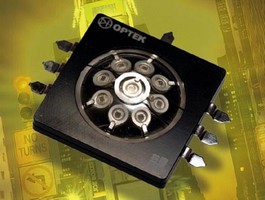 Lednium Series of surface mount 10 W 3D LED assemblies are composed of nine 1 W LEDs mounted in 1.3 in. sq anodized aluminum housing with less than .5 in. profile. Assemblies provide parallel-serial connections that enable operation of 3, 6, or all 9 LEDs. Peak pulsed forward current is 3 A with dc forward current of 1.05 A. Forward voltage ranges from 6.3-9.25 V and reverse voltage is 15 V. Units offer 120° viewing angle and are available in amber, blue, green, red, or white.
---
Original Press Release:

OPTEK's Lednium Series 3D LED Array Package Brings a New Dimension to Solid State Lighting Applications



Surface mount 10W LED assembly provides 120° viewing angle, 330 lumen output...

SAN FRANCISCO, CA (February 15, 2006) - Combining high brightness LEDs with a revolutionary three-dimensional packaging technology, TT electronics OPTEK Technology has introduced what the company describes as one of the industry's brightest single-source packaged visible LED assemblies at the Strategies in Light conference in San Francisco. Designated the OPTEK Lednium Series, the 10W package offers a full 120° viewing angle for its array of amber, blue, green, red, or white LEDs.

According to Richard Saffa, Vice President of OPTEK Technology's Visible LED Unit, OPTEK's Lednium Series devices achieve an output of up to 330 lumens with nine 1W LEDs mounted in an anodized aluminum package just 1.3 inches square, with a board mounted profile of less than .5 inch. "The ability to put high brightness LEDs in a compact, energy efficient package will have significant impact on the lighting industry," Saffa explained. "As one of the brightest single-source LED assemblies available today, OPTEK's Lednium Series devices have the potential to make solid state lighting a practical reality for a wide range of applications."

Conventionally-packaged LED arrays with comparable light output often require as many as 12 1W LEDs in configurations up to 8 inches in diameter, which typically consume more power.

The wide viewing angle and increased brightness are critical features for lighting design engineers as they begin to incorporate solid state light sources (LEDs) into applications such as automotive interior and exterior lighting, indoor and outdoor electronic signage and displays, as well as architectural lighting and general lighting applications.

OPTEK last year signed a joint agreement with Lednium, an Australian LED technology company, to develop a series of solid state lighting products using Lednium's packaging technology.

The OPTEK Lednium Series LED assemblies also provide different parallel-serial connections that enable the operation of 3, 6 or all 9 of the mounted LEDs, enabling design engineers to vary the light output and power consumption.

OPTEK's Lednium Series devices are available in amber (595nm, 330lm); blue (467nm, 60lm); green (524nm, 290lm); red (624nm, 247lm); and white (250lm). All colors feature a full 120° viewing angle in water clear lenses. In development are other visible, as well as UV and IR wavelengths and package configurations.

DC forward current is 1.05A, with peak pulsed forward current of 3A. Typical forward voltage characteristics range from 6.3V to 9.25V (color-dependant), and reverse voltage for all devices is 15V.

Maximum allowable junction temperature is 130°C (average thermal resistance junction-to-board is 5°C/W), and the operating temperature range for the device is -50°C to +80°C.

OPTEK Lednium Series product is stocked by OPTEK's distributors in the Americas, Europe and Asia. Production quantity lead times are from stock to 6 weeks.

For more information about the OPTEK Lednium Series product, contact TT electronics' OPTEK Technology at 1645 Wallace Dr., Carrollton, TX, 75006; call 972-323-2200, or visit OPTEK on the web at optekinc.com/led_pr1.asp. In Europe, contact JP Delaporte at info@optek-europe.com or call +33-1-34-24-8788.

OPTEK Technology is a leading manufacturer of standard and application-specific sensors using infrared, visible, magnetic and fiber optic technologies focused on applications in office machines, industrial equipment, encoders, automotive electronics, military and high-reliability applications, and medical diagnostic equipment. Headquartered in Carrollton, TX, the company is ISO/TS16949:2002 and BS EN ISO 9001:2000 certified, as well as ITAR registered. OPTEK Technology was acquired by TT electronics in December 2003.

TT electronics plc is a global electronics company manufacturing a broad range of advanced electronic components, assemblies and sensor modules for the automotive, industrial, telecommunication, computer and aerospace markets.

Keywords: TT electronics, OPTEK, Lednium, LED, 10-Watt
Datasheet: optekinc.com/products/VLED_Lednium.asp

More from Electronic Components & Devices