Leak-Test Pad-Print System suits cathater manufacturing.
Press Release Summary: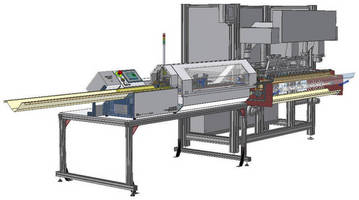 Automated Leak-Test Pad-Print System (ALPS) combines feeding, handling, and integration technology with Deco-Tech pad printer and Zaxis leak test technology to realize bin-to-bin automation for catheter leak testing and pad printing. Design and automation functionality can help increase daily output for leak test and pad print systems, while simultaneously promoting quality and test integrity as well as reduced labor requirements.
---
Original Press Release:

ASG Medical Systems Announces New Automated Leak-Testing and Pad-Printing System



West Palm Beach, FL - ASG Medical Systems is pleased to announce the introduction of the ALPS Automated Leak-Test and Pad-Print System for catheters, combining two complex catheter manufacturing processes with ASG's feeding, handling and integration technology to create a fully automated system.

ALPS uses proven pad print technology from Deco-Tech, and leak test technology from Zaxis, along with automation and integration from ASG Medical Systems to create a robust, bin to bin automated system for catheter leak testing and pad printing.

The benefits of ASG automation typically include a 100% increase in daily output for the leak test and pad print systems, improved quality and test integrity due to precise product handling, and of course, dramatic labor savings of two people per shift available to focus on other valuable tasks.

At ASG, we constantly develop automated manufacturing machines to improve the output quality and efficiency of catheter and guidewire manufacturing. If you have a catheter manufacturing process you'd like to automate, or if you have an automated process that you want to make more efficient, please contact us at ASG. Our team is ready to serve you.

Contact:

Michael J. Learmouth
President
DECO TECHnology Group, Inc.
Orange, CA
(714) 639-3326
mlearmouth@decotechgroup.com

Don Parr
Zaxis Inc.
Salt Lake City, Utah
(801) 264 1000 ext. 105
Mobile: 801-201-6985
dparr@zaxisinc.com

About ASG Medical Systems
ASG Medical Systems is a leading solution provider for catheter and guidewire manufacturing automation. We design, build and sell automated manufacturing machinery from our factory in West Palm Beach, Florida directly to customers in the Americas, and through manufacturing representatives to markets in Ireland, Europe, Japan and China. Our equipment is recognized for its ability to handle difficult processes with speed, precision, flexibility, and ease of use.

ASG Medical Systems was begun in 1991 by two mechanical engineers as Automation Services Group. The company became part of Tyco Electronics in 1999. In 2002, the two original founders and the operations manager purchased the medical automation business from Tyco. ASG Medical has experienced steadily accelerating growth since inception. Today the company is owned by founder Dan Woodward and partner Paul Ogden. Dan acts as Director of Technology, and Paul acts as Director of Sales. The company employs more than 40 people, including 10 engineers and designers.

More from Controls & Controllers