Leak Location System aids production, repair loop applications.
Press Release Summary: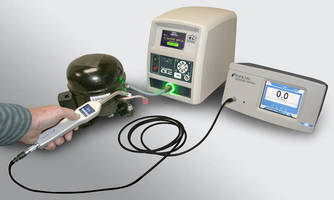 Offered as benchtop combo package, atmospheric leak location system integrates TracerMate CS charge gas system and INFICON Sentrac hydrogen leak detector. TracerMate instrument, utilizing internal pneumatics for part evacuation and backfill, initiates and manages testing sequences. Detected leaks are reported by leak rate volume, audible alert, and color status light. At end of test cycle, TracerMate re-evacuates and vents part to control Hydrogen background for future test cycles.
---
Original Press Release:

New CTS TracerMate Leak Location System Provides Low Cost Leak Isolation for Production and Repair Loop Applications



Harrison, OH – Cincinnati Test Systems has teamed up with INFICON to package a low cost atmospheric leak location system. The benchtop combo package includes the TracerMate CS charge gas system and the INFICON Sentrac hydrogen leak detector. The TracerMate instrument initiates and manages the testing sequences by utilizing internal pneumatics for part evacuation and backfill. The Sentrac hydrogen gas leak detector provides high sensitivity for small, medium, and large leak detection applications.



The integration of these two instruments provides the capability to locate and isolate a leak with a high degree of accuracy using a Hand Held Probe. The probe monitors for hydrogen in the air around the part using an electronic hydrogen sensor calibrated to detect concentrations of hydrogen gas higher than normal background. Detected leaks are reported by leak rate volume, audible alert, and a color status light. The effectiveness of the TracerMate is its ability to properly evacuate the part to insure it is pressurized with tracer gas so it reaches a leak path quickly. At the end of the test cycle the TracerMate  re-evacuates and vents the part to control Hydrogen back ground for future test cycles.



The TracerMate Leak Locating System provides basic 'low cost' leak locating with tracer gas management and the ability to retest parts after the leak is repaired using the instrument's pressure and vacuum decay test capability. This system is a perfect fit for production and repair loops, applications where part assemblies fail final inspection due to leaking seals and/or leaking component parts.  The TracerMate Leak Location System uses 5% Hydrogen with 95% Nitrogen mix – a dry system that is non-contaminating and quickly identifies leak location to allow the part to be fixed or discarded.



For those customers that require testing using other tracer gases, like Helium, TracerMate CS can communicate with other leak detection devices utilized for sniffing or tracer gas accumulation testing for measureable leak test techniques. Cincinnati Test Systems, Inc. is a member of the TASI Group of Companies, based in Southwestern Ohio. CTS has been engineering and manufacturing precision leak test equipment and function/assembly verification tests for customers throughout the world since 1981.



For more information, visit our website: www.cincinnati-test.com.



CTS website

page link:  http://www.cincinnati-test.com/tracer-leak-test-systems-sniff-leak-testing-c-156_61_210-l-en.html





Cincinnati Test Systems, Inc.

10100 Progress Way

Harrison, Ohio 45030

Phone:513.202.5118

Fax:     513.367.5426

www.cincinnati-test.com



More from Cleaning Products & Equipment