Leak Detection Systems meet varying customer requirements.
Press Release Summary: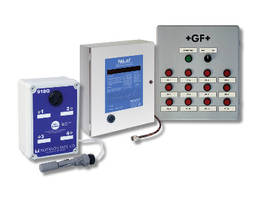 Intended for wastewater treatment plants and buried applications, Leak Detection Systems operate in double containment piping systems. Designed to handle up to 4 sensor signals, 918Q Alarm Box features audible and visual alarm indicators. Microprocessor-based PAL-AT offers multi-sensing and remote monitoring of up to 4 separate sensing zones, each with up to 7,500 ft of sensor cable. Using 12 discrete inputs, Low Point Leak Detection System identifies leak at specific location point in pipe.
---
Original Press Release:

New Leak Detection Systems Meet Varying Customer Requirements from Simple, Low-Cost to Fully Customizable



IRVINE, Calif. -- Aimed to fulfill a wide range of customer requirements for leak detection in double containment piping systems, GF Piping Systems has announced a new product line featuring three leak detection systems. The new offering complements the company's double containment piping systems, which includes Fuseal Squared, PP, Contain-It and Double-See.  Designed for wastewater treatment plants and buried applications, the new line includes the 918Q Alarm Box, the PAL-AT Continuous Cable System and the Low Point Leak Detection System.



"In the event there is a leak, these detection systems are extremely useful in determining where the leak is and translating that information to facility personnel in a timely manner," says Terence Zhao, Product Manager of Engineered Piping Systems for GF Piping Systems. "With our three double containment piping systems, it just made sense to offer customers the convenience of buying a leak detection system when they buy one of our double containment systems."



For simple, low-cost leak detection requirements, the 918Q Alarm Box handles up to four sensor signals and features audible and visual alarm indicators.   The space-saving device emits a 90 dB alarm from four feet away and uses standard lithium batteries (low-battery visual indication also included). 



The second product in the line is the PAL-AT system.  Miroprocessor based, the PAL-AT offers multi-sensing and remote monitoring of up to four separate sensing zones, each with up to 7,500 feet of sensor cable.  The system also offers the advantage of wet cable start-up and is capable of locating  multiple leaks as well as growing leaks.



Last in the new line is the fully customizable Low Point Leak Detection System.  This 12-point system uses 12 discrete inputs which allows a leak to be identified at a specific location point in the pipe.   Other important characteristics of the system include complete output functionality, availability of additional points, power protection and locking latches.



For more information on the the new Leak Detection Systems, click here or contact GF Piping Systems at 9271 Jeronimo, Irvine, CA 92618-1904 USA; Toll Free (800) 854-4090, Fax (714) 731-6923; e-mail:

[email protected]

; Web: www.gfps.com

 

About GF Piping Systems

GF Piping Systems supplies a full range of plastic pipe, fittings, valves, actuators, rotameters, fusion machines, secondary containment, heat exchangers, custom products, and sensors and instrumentation for industrial process control. 



GF Piping Systems

9271 Jeronimo

Irvine, CA 92618-1904 USA

Toll Free (800) 854-4090

Fax (714) 731-6923

e-mail:

[email protected]



Web: www.gfps.com



All trademarks are the property of their respective companies



Contact Information:

Georg Fischer LLC

9271 Jeronimo

Irvine, CA 92618-1904 USA

www.gfpiping.com



Terence Zhao

Product Manager

Tel : +1 714 368 4247



[email protected]