Leak Containment System prevents chemical spills.
Press Release Summary: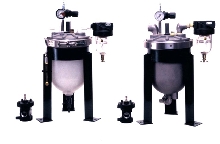 Spill-STOP® is designed to prevent toxic and/or expensive spills caused by failure of diaphragms in air operated diaphragm pumps. It contains float-controlled valve, which shuts off compressed air supply to pump, insuring no further liquid is pumped through failed diaphragm and preventing hazardous chemical spill. In addition, valve can automatically turn on standby pump or trigger alarm for immediate response.
---
Original Press Release:

PREVENT CHEMICAL SPILLS DUE TO PUMP DIAPHRAGM FAILURE


Riverside, CA
The patented Blacoh Spill-STOP® is designed to prevent toxic and/or expensive chemical spills caused by the failure of diaphragms in air operated diaphragm pumps. The Spill-STOP® is more than just an alarm or moisture sensor. It's patented design captures any contaminated exhaust air or liquid leaked through a ruptured diaphragm. The Spill-STOP® then automatically shuts off the pump - pneumatically, no electricity or batteries are required. The Spill-STOP®'s operating principle is simple. Exhaust air from the pump is directed into the Spill-STOP®, which acts as an accumulator vessel and exhaust muffler.
When a pump diaphragm fails, the liquid and fugitive emissions that would escape through the pump's air exhaust are directed into the Spill-STOP® and are captured. The Spill-STOP® contains a float-controlled valve, which shuts off the compressed air supply to the pump, insuring no further liquid is pumped through the failed diaphragm and preventing a hazardous chemical spill. In addition, the valve can automatically turn on a standby pump or trigger an alarm for immediate response. Spill-STOP® also minimizes the hazards to personnel exposed to airborne chemicals from the exhaust of air-operated pumps.
U.S. PATENT #5,501,577

BLACOH FLUID CONTROL, INC.
1221 DODSON WAY, RIVERSIDE, CA 92507 USA
TEL: 800.603.7867 or 909.342.3100 Fax: 909.342.3101
e-mail: [email protected] web site: www.blacoh.com