Lead Acid Battery Charger provides fully automatic operation.
Press Release Summary: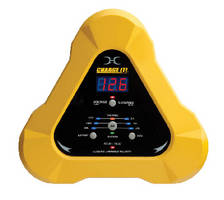 After operator selects battery type and desired charge rate, Model 4520 executes automatic charging process, delivering consistent charge every time. Unit includes polarity protection, outputting current only when proper battery connection has been made. Rated at 12 V, 20/10/2 A, charger is compatible with variety of battery types and sizes, including conventional, maintenance-free, AGM, gel cell, deep cycle, and marine batteries.
---
Original Press Release:

New CHARGE IT! 4520 Battery Charger from Clore Automotive



Clore Automotive introduces Model No. 4520, a 12 Volt 20/10/2 Amp Smart Battery Charger/Maintainer, from CHARGE IT!. With the 4520, everything in your garage can be kept charged up and ready for use. Big or small, summer or winter, no matter what type of lead acid battery it utilizes.

With the CHARGE IT! 4520, operation is fully automatic, freeing you for other tasks but still delivering the same consistent, beneficial charge every time. It is simple to set-up for each charging/maintenance application. The operator simply selects the battery type and the desired charge rate - the charger executes the automatic charging process, resulting in quick, easy and beneficial operation. In addition, the 4520 features polarity protection, outputting current only when a proper battery connection has been made.

This unit is compatible with a wide variety of battery types and sizes, including Conventional, Maintenance Free, AGM, Gel Cell, Deep Cycle and Marine batteries. With the increasing use of non-traditional starting batteries in today's vehicles, it is important for technicians and consumers alike to have a charger that can properly charge and maintain a variety of battery types.

Clore Automotive is a leader in the design, development and manufacture of automotive service equipment for professionals and consumers, including jump starters, battery chargers, battery testers, power inverters, cooling system service equipment and automatic transmission fluid exchange equipment. Clore Automotive products can be found in a wide variety of outlets servicing professional technicians and automotive enthusiasts, including auto parts stores, mobile tool dealers, industrial MRO distributors, farm and ag outlets and more. More information can be found at www.cloreautomotive.com.