LCR Meter measures inductance, capacitance, and resistance.
Press Release Summary: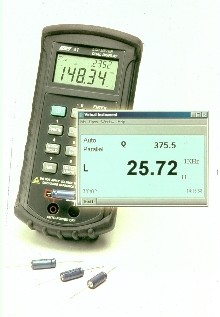 Passive Component Model 380193 LCR meter measures inductance from 2000.0 microH to 10,000 H, capacitance from 2000.0 pF to 10.000 mF with 0.7% accuracy, and resistance from 20.000 ohms to 10.000 Mohms with 0.5% accuracy. It has RS-232 interface, 4½ digit backlit LCD, test frequencies of 120 Hz and 1 kHz, Hi/Lo limits, and selectable parallel or series equivalent circuit. Optional Windows(TM) software provides data capture and analysis.
---
Original Press Release:

Passive Component LCR Meter


Measures Inductance, Capacitance, and Resistance with secondary parameter (Q, D, R)

Extech's Passive Component LCR Meter, Model 380193, is now available with a built-in RS-232 interface. Optional Windows(TM) software provides for data capture and analysis. Measures Inductance (2000.0 microH to 10,000H) and Capacitance (2000.0pF to 10.000mF) with 0.7% basic accuracy. Resistance measurements range from 20.000 ohms to 10.000 Mohms with 0.5% basic accuracy. Measurements are displayed on a 4-1/2 digit, backlit LCD providing resolution to 0.1pF, 0.1 microH, and 0.001 ohms. The primary parameter (L, C, or R) is simultaneously displayed with the secondary parameter (Q, D, or R) on the 20,000/10,000 count display. Model 380193 provides test frequencies of 120Hz and 1kHz, the ability to set Hi/Lo limits using absolute values or percentage limits, and selectable Parallel or Series equivalent circuit. Additional features include Max/Min/Avg recording, built-in test fixture (or use external test leads), Open and Short zero to remove unwanted stray impedance from the measurement, Relative mode with zero reference or user supplied reference, and Auto power off. The meter may be powered by a 9V battery or optional AC adaptor. Complete with test leads, alligator clips, 9V battery, and protective holster. Dimensions: 7.56x3.58x2.1". Weight: 12.87oz. Price: $179. Delivery from stock.

http://www.extech.com
e-mail: extech@extech.com

For publication information contact Lois Curley, Marketing Manager

For technical information, contact John O'Brien, Applications Engineer

Phone: 781.890.7440; Fax: 781.890.7864; E-mail: extech@extech.com; Internet: www.extech.com


More from Electronic Components & Devices