LCR Meter for SMT simplifies PCB troubleshooting.
Press Release Summary: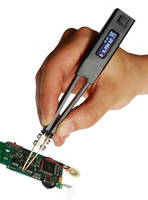 Supporting single-handed use, 1 oz LCR-Reader automatically determines component type and best range/frequency before delivering values on OLED display. Main impedance value and secondary impedance component are shown along with component type, measurement mode, and test parameters. Along with 1% basic accuracy, features include gold-plated probes for reliable contact grasp on components down to 0201, automatic evaluations, and rechargeable Li-Ion battery offering 80 hr continuous operation.
---
Original Press Release:

LCR-Reader - The Ultimate LCR-meter for Surface Mount Technology from Siborg Systems Inc.



The LCR-Reader is the newest member in the Smart Tweezers family that simplifies troubleshooting of PCBs. Changes to design and user interface results in reduced price, while keeping 1% basic accuracy and wide measurement ranges. Ordering is easy through Amazon in key countries throughout North America and Europe.



TORONTO – Since the first commercial implementation of Smart Tweezers LCR-meter about a decade ago, a continuous effort was put into a reduction of the manufacturing cost. New components and technology that have become available allowed improving schematics and reducing the component cost and the PCB size.



Due to the use of a Li-Ion rechargeable battery and OLED display, LCR-Reader has a weight of about 1 ounce, only half of that of previous Smart Tweezers' models. Even more importantly, the price was reduced from about $400 to under $200 range.



The small components are hard to identify which may lead to stress while manufacturing or troubleshooting PCBs. Conventional testers require using both hands to operate the long leads and tedious set-up prior to evaluation.



LCR-Reader is a convenient alternative to traditional testers. Using just one hand to hold the device like a pen makes it easy to concentrate on the component being measured. LCR-Reader automatically determines the type of component and the best range and frequency before quickly delivering the values on the display. Along with the main impedance value, the secondary impedance component is also shown as well as the component type, measurement mode and test parameters. The gold-plated probes ensure a reliable contact grasp on all components down to a 0201 size.



LCR-Reader is an ultimately easy-to-use device allowing the user to focus solely on the task at hand with fully automatic evaluations. Device is nearly unnoticeable in a pocket or bag, and can be charged from virtually anywhere via micro-USB port. Due to the Li-Ion battery, the device can continuously operate up to 80 hours with a 3 hour full-charge time.



LCR-Reader was created as an affordable alternative to Smart Tweezers, which was achievable by omitting some rarely used features while still offering consumers an accurate and highly capable device. This model offers a greater basic accuracy at 1%, which is better than for the previous to ST-5 models. The discontinued features are: component sorting offset subtraction, continuity and diode test. A fixed 0.5Vrms test signal level is used (this may hinder testing in some ceramic capacitors). Simple but user-friendly, the LCR-Reader offers a professional device that offers the most of Smart Tweezers functionalities.



Ever evolving, the Smart Tweezers' line of handheld, digital LCR-meters has become an instantly recognizable device due to its innovative design. The LCR-Reader opens a new opportunity in the direction of creation of high quality consumer test equipment for mass consumption.



Siborg Systems Inc. offers a complimentary 2-year extended warranty for purchases of Smart Tweezers and LCR-Reader through their web sites. Customers in North America and Europe will benefit by ordering through Amazon by bypassing customs, brokerage fees, low shipping rates and fast delivery.



All Smart Tweezers and LCR-Reader news is available on the Smart Tweezers Blog.



About Siborg Systems Inc:

Established in 1994, Siborg Systems Inc. is a source of engineering software and hardware tools for semiconductor and electronics industry.



For more information:

Siborg Systems Inc.

24 Combermere Crescent

Waterloo, Ontario, N2L 5B1

Canada



Contact:

Michael S. Obrecht

Tel: 519-888-9906

Fax: 519-725-9522

Email

More from Controls & Controllers