LCR/ESR Meter tests components at high speeds.
Press Release Summary: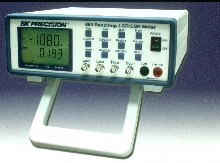 Model 889 Synthesized Bench In-Circuit meter can be used to test inductors, capacitors, and resistors. It makes ac and dc voltage measurements, diode continuity checks, and LCR and ESR measurements at frequencies up to 100 kHz, with basic accuracy of 0.5%. When LCR measurement mode is selected, test frequencies of 100 Hz, 120 Hz, 1 kHz, 10 kHz, or 100 kHz may be selected on all applicable ranges. Dual display permits simultaneous measurements.
---
Original Press Release:

B & K Precision's(R) New Synthesized Bench In-Circuit LCR/ESR Meter Tests Components at up to 100KHz


YORBA LINDA, Calif., July 31, 2002 - B+K Precision Corporation, one of the industry's leading supplier of test and measurement products, today announced the addition of the Model 889 Synthesized Bench In-Circuit LCR/ESR Meter to its growing line of test and measurement products. Utilizing a standard 115VAC outlet as the power source, this new high accuracy test instrument with computer interface can be used to test components at frequencies up to 100KHz, with a basic accuracy of 0.5%. Priced at a low $1,395, the Model 889 is an ideal bench test instrument for applications in electronic engineering labs, production facilities, service shops, and schools.

Some of the unique features of the B+ K Precision Model 889 include:
Voltage Measurements:
o ACV: True RMS, up to 600Vrms @40-1Khz
o DCV: up to 600V
o Input Impedance: 1Mohm

Diode/Audible Continuity Checks:
o Open circuit voltage: 5Vdc
o Short circuit current; 2.5mA

LCR Measurements:
o Test Condition:
1. Frequency: 100Hz/120Hz/1KHz/10K-Hz/100KHz
2. Level: 1Vrms/0.25Vrms/50mVrms/1VDC (DCR only).
o Measurement Parameters: Z, Ls, Lp, Cs, Cp, DCR, ESR, D, Q and A
o Basic accuracy: 0.5%
o Dual Liquid Crystal Display
o Fast/Slow Measurement
o Auto Range or Range Hold
o RS-232 Interface Communication
o Open/Short Calibration

"Our new Model 889 Synthesized Bench In-Circuit LCR/ESR Meter can test components at frequencies up to 100KHz and with a basic accuracy of 0.5%, and it is the most accurate meter of its type on the market," said Victor Tolan, B+K Precision's President and CEO. "It has been designed for both component evaluation on the production line and fundamental impedance testing from bench-top applications. Utilizing the front panel mounted BNC connectors and special test leads, the user can very easily and accurately test a variety of components. And, with the built-in functions of DC/AC Voltage measurements and Diode/Audible Continuity checks, the model 889 can not only help engineers and students to understand the characteristics of electronic components but it can also be an essential tool on any service bench. At a suggested retail price of only $1,395, it is the best buy on the market today."

The Model 889 can be used for measuring inductors, capacitors, and resistors with a basic accuracy of 0.5%. It is defaulted to auto ranging, however, it can be set to auto or manual ranging by pressing the Range Hold key. When LCR measurement mode is selected, the test frequencies of 100Hz, 120Hz, 1KHz, 10KHz, or 100KHz may be selected on all applicable ranges. Test voltages of 50mVrms, 0.25VMS, 1Vrms or 1VDC (DCR only) can also be selected on all applicable ranges. The dual display permits simultaneous measurements. When DC/AC voltage measurements mode or the Diode/Audible Continuity Check mode is selected, only the secondary display is used.

The Model 889 Synthesized In-Circuit LCR/ECR meter offers a large variety of measurement parameters such as Z, Ls, Lp, Cs, Cp, DCR, ESR, D, Q, and A, and a wide range of test conditions including 100Hz, 120Hz, 1KHz, 10KHz, 100KHz, 1Vrms, 0.25Vrms and 0.05Vrms. It features DC resistance measurement, 0.5% basic accuracy, a large, easy-to-read dual LCD display, fully auto/manual selection, and very quick response.

B+K Precision's Model 889 Synthesized Bench In-Circuit LCR/ECR Meter comes complete with instruction manual and is priced at $1,395, quantity one. It is available for immediate delivery.

For over 50 years, B + K Precision Corporation has developed a reputation for excellence in the design and manufacture of high quality, reliable and cost-effective test and measurement products. Recognized for their price-performance value, ease of use, measurement accuracy and application flexibility, B + K Precision Corporation products are available worldwide through a global network of authorized distributors.

For additional information or the name and location of an authorized distributor near you, contact B&K Precision Corporation, 22820 Savi Ranch Parkway, Yorba Linda, California, 92887, Tel: (714) 921-9095, Fax: (714) 921-6422 or visit our Web site at www.bkprecision.com